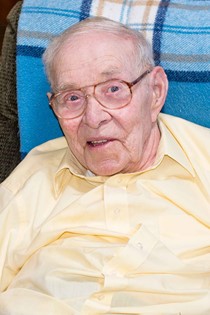 Ross Saunders
Apr 12, 1924 - Jun 16, 2017

Ross Saunders, long-time Riverton resident, died at St. John's Lutheran Home, Billings, Montana, June 16, 2017, from complications of a stroke. He was 93. Ross had been a resident there in long-term care since September 2012. Ross had moved there to be near family after his stroke, and following the death of his wife, Dorothy, in January 2012.

Ross was born Worthy Munross Saunders on the Hastings ranch near Madrid, Perkins County, Nebraska, on April 12, 1924. His parents named Ross after his two grandfathers: Worthy S. Saunders and Samuel Munross Henry. Nicknamed "Ross," he was the second of two children born to Della May (Henry) Saunders, and Pearl Aubrey Saunders. The Saunders homesteaded in the early 1900s northwest of present Oshkosh, Garden County, Nebraska near the head of Lost Creek. Ross was born far from the Saunders' homestead as his mother, Della, had traveled to southern Nebraska to be with her mother, Matilda "Tilly" Henry during Della's pending childbirth.

The Pearl and Della Saunders family, with children, Ross and Presley "Pres," stayed on their farm until crop failures, smallpox, and an April 1938 tornado caused the family to move to Oshkosh. The tornado destroyed the Lone Star school house near the Saunders' homestead, killing three of Ross's classmates and injuring him. At his death, Ross was the last survivor of that deadly tornado.

In 1942 Ross graduated from Garden County High School in Oshkosh. The Army drafted him in 1943; he fought in World War II in the Pacific in the invasion of New Guinea, the Bismarck Archipelago, and the invasion of the Philippines Islands.

Ross returned to Oshkosh and worked for the Nebraska highway patrol as a radio dispatcher. He married Inez Marie Laben in Bridgeport, Nebraska, in August 1948. One daughter, Anita, was born to them. Ross married Dorothy Belle Brakeman on April 19, 1952 in Gering, Nebraska.

Three children were born to this union with Dorothy: Marguerite (Carl) House of Cody, Wyoming; Evelyn (Victor) Smith of Boise, Idaho; and Edward (Charlene) of Laurel, Montana. Ross and Dorothy were married for almost 60 years.

Ross, Dorothy, and their three children moved from Gering, Nebraska, to Riverton, Wyoming, on Memorial Day weekend, 1964. Ross and Dorothy lived on West Fremont Avenue in Riverton for almost forty eight years. Ross worked for the Riverton police department for many years and then owned and operated Riverton Rental.

After his and Dorothy's retirement, they stayed active in the Good Neighbor Sam recreational vehicle club traveling throughout America. Ross was a life member, Veterans of Foreign Wars Post 3628, Riverton, Wyoming.

Ross is survived by his four children; five grandchildren, and ten lineal great-grandchildren. Ross is preceded in death by his parents, Pearl and Della Saunders of Oshkosh, Nebraska; his brother, Presley Harrison Saunders of Moro Bay, California; Ross's wife, Dorothy, and one great-grandchild.

The Saunders family sincerely thanks the staff of Fischer Cottage, St. John's Lutheran Home, Billings, Montana, for their kind and compassionate care for Ross during his many years there.

Ross was cremated. Family will hold graveside services for him with military honors at Riverton's Mountain View Cemetery on Thursday, July 20, 2017, 10:00 a.m.

In lieu of flowers, memorials can be sent to Friends of the Antelope Valley Church, P.O. Box 593, Oshkosh, Nebraska, 69154.