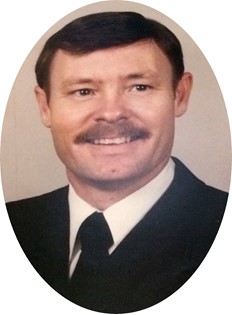 Grover "Stan" McSwain
Jun 17, 2017 - Jun 17, 2017







Grover "Stan" McSwain, 69, of Pavillion died at his home on Monday, June 12, 2017. A viewing will be from 6:00 pm to 8:00 pm on Thursday, June 22, 2017, at Davis Funeral Home. The funeral will be held at 3:00 pm on Friday, June 23, 2017, at the Pavillion Community United Methodist Church with full military honors.

Grover Stanley McSwain was born on September 6, 1947 in Thomaston, GA to Grover Cleveland and Gladys (Passmore) McSwain. He attended school in Thomaston graduating from R.E. Lee Institute. He earned his master's degree in Education from St. Mary's College of Maryland.

He was baptized into the Methodist faith and attended the Pavillion Community United Methodist Church. He helped run the media equipment at the church.

He joined the U. S. Navy on April 29, 1966 and served in Vietnam as a radioman. He also served in Iceland as a Communications Systems Manager with the Fleet Ballistic Missile Submarine Training Center. His last assignment was on the USS Proteus as an instructor and he was honorably discharged on March 31, 1989 in Charleston, SC after 23 years of service. He earned many decorations, citations, campaign ribbons, and badges. He was awarded the Gallantry Cross Medal and the Sea Service Deployment Ribbon with 1 Bronze Star.

He taught mathematics at the College of The Marshall Islands from 1996 to 2008. Before entering the military, he worked on a construction crew building homes for about four years.

He enjoyed reading and doing research of all kinds. He loved outdoor activities and living in Wyoming gave him every opportunity to fulfill his passion.

He is survived by his wife, Paulina McSwain of Pavillion; sons, Grover Terrell McSwain and his wife, Jennifer of San Antonio, TX, Andy N. McSwain of Casper, WY, and Michi Morris McSwain of Anchorage, AK; daughters, Katherine McSwain of Greenville, SC and Em B. McSwain of Riverotn, WY; brother, Cleveland McSwain and his wife, Cissie of Thomaston, GA; niece, Jodi Johnson of Riverton, WY; and seven grandchildren.

He was preceded in death by his parents, Grover and Gladys McSwain.

Memorials may be made to Jews for Jesus in care of Davis Funeral Home, 2203 West Main Street, Riverton, WY 82501.

On-line condolences may be made to the family at www.TheDavisFuneralHome.com.

Services under the direction of Davis Funeral Home.