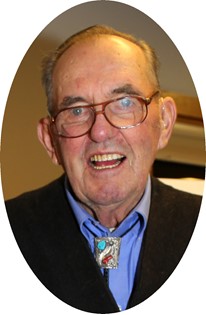 JD Hodgson
May 30, 1932 - Jul 4, 2017

JD Hodgson, 85, of Dubois died Tuesday, July 4, 2017 at the Eastern Idaho Medical Center in Idaho Falls. A memorial service with a reception to follow will be held 10:00 a.m., Monday, July 31, 2017 at the St. Thomas Episcopal Church in Dubois with The Reverend Lynn Cunningham presiding.

Jay Dee Hodgson was born May 30, 1932 in Ekalaka, Montana. His parents were Arthur James Hodgson and Stella Christina Speelman. JD moved to Mudlake, Idaho at a young age with his family. The family moved to Spokane, WA during W.W. II where his father worked during the war effort. At the end of the war the family moved back to Mudlake where the family ranched. JD graduated from Mudlake High School. He was the oldest of five boys. JD served in the U.S. Army. He was on a troop ship to Korea when the war ended and the ship turned around.

JD married Kristina Kindlund together the couple had three children, Walter, Lisa, and Carl. The couple later divorced.

JD has been a Dubois resident for over 50 years. He was a member of the St. Thomas Episcopal Church in Dubois and former member of the Dubois Masonic Lodge No. 53.

JD worked at the Dubois Saw Mill for many years before working for the Parker Ranch where he irrigated, rode the forest, and night calved. He married Sylvia Crouter on December 30, 1974 at the family's ranch, Box Hanging Three Ranch. Episcopal Priest, The Reverend Burdette Stampley officiated. Together the couple raised Tennessee Walking Horses and put up hay.

His wife said his greatest love was to work. He enjoyed reading and re-reading Louise L'Amour books on his Kindle. He would also follow the national and international news. The couple enjoyed traveling especially to the Galapagos Islands, Virgin Islands, and Botswana, Africa, and took a special trip on a river barge tour of the Burgundy country of France.

He is survived by his wife, Sylvia Crouter of Dubois; son, Carl Hodgson of Shawnee Mission, Kansas; daughter, Lisa Finkemeier and husband (Stephen) of Shawnee Mission, Kansas; step-children, Charles "Tod" Crouter and wife Jan of Walla Walla, Washington, Ann Crouter and husband William Tolan of State College, Pennsylvania, and Mary Crouter and husband David Weiser of Austin, Texas; brother, James "Jim" Hodgson of Boise, Idaho.

He was preceded in death by his parents, Arthur and Stella; son Walter Hodgson; three brothers, George, Thomas, and Gary Gale Hodgson.

Memorials may be made to the St. Thomas Episcopal Church in care of the Davis Funeral Home, 2203 W. Main Street, Riverton, WY 82501.

On-line condolences for the family may be made at theDavisFuneralHome.com.

Services are under the direction of the Davis Funeral Home.