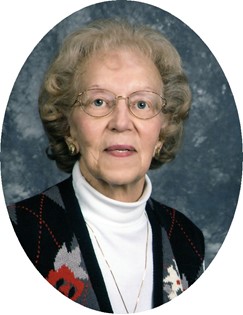 Pauline Culver
Apr 17, 1921 - Jul 10, 2017
Pauline Bowman Culver, 96, passed away in her sleep on July 10, 2017, at Wind River Healthcare in Riverton. Graveside services will be held 2:00 p.m., Wednesday, July 12th at Mountain View Cemetery.

Pauline was born in Noxapater, Mississippi, on April 17, 1921, to Robert Daniel and Virgie Henretta Bowman. She was the last surviving of eight siblings, including four sisters: Virginia Bowman Molpus, Louise Bowman Moss, Evelyn Bowman, and Jean Bowman Catchot; and three brothers: Thomas Daniel Bowman, Robert Olyn Bowman, and William Sharp Bowman.

She married Howard Dean Culver on May 6, 1940, in Philadelphia, Mississippi. They had two daughters, Patricia (Culver) Bryant and Rebecca (Culver) Adams. When Pauline's husband, Dean, went to serve his country in WWII, she relocated to Wyoming with his family. Pauline Culver was proud to call herself a citizen of Wyoming for the next 75 years. Mr. Culver preceded her in death.

Mrs. Culver will be long and lovingly remembered for her devotion to her husband and family; her pioneering spirit; her outstanding talents as a cook, seamstress, gardener and homemaker. In addition to her daughters Patricia Bryant and Rebecca Adams (and husband, John Howe), she is survived by granddaughters Tana (Bryant) Meginnis and husband Andy, Laura Adams and husband Michael Koepf, Teresa (Bryant) Peterson and husband Bruce, and great-grandchildren Margo Ackman, Keila Meginnis, and Ashton Meginnis. She is also survived by her sisters-in-law Mary Herring (Albuquerque, New Mexico,) and Billie Culver (Dubois), and many nieces and nephews. Her son-in-law Morgan Bryant also preceded her in death.

The family suggests that those wishing to make memorial contributions please do so to the charity of their choosing.

On-line condolences may be made to the family at www.TheDavisFuneralHome.com

Services are under the direction of Davis Funeral Home.