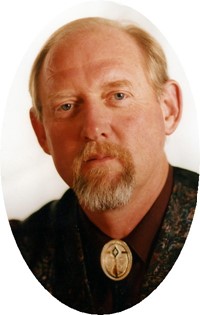 Ed Murray
Feb 4, 1956 - Jul 11, 2017

A Memorial Service for Ed Murray, 61, will be held 2:00 p.m., Saturday, July 22, 2017 at the Church of Christ, 39 Gas Hills Road, Riverton, WY. Cremation has taken place under the direction of Davis Funeral Home.

Mr. Murray died on July 11, 2017 at the Huntsman Cancer Center in Salt Lake City, Utah.

Eddie Leon Murray was born on February 4, 1956, son of Bud and Barbara (Scott) Murray in Paragould, Arkansas. He was raised by Ralph and Lottie Edrington. He was baptized when he was 12 years old in Paragould, Arkansas at the Center Hill Church of Christ.

He graduated from Crowley's Ridge Christian Academy. One week after his graduation, Ed enlisted in the Arkansas National Guard and served in the reserves for 6 years, earning the rank of Sergeant. On August 2, 1975, Ed married Sherry Ann Pendergrass in Paragould, Arkansas. He and Sherry worked as House Parents at the Christian Children's Home in Lubbock, TX while schooling at the Sunset School of Preaching from 1983 until 1985, earning his Bachelor's Degree in Biblical Study. They then went into the mission field in both Sioux City, IA and Gillette, WY where they ministered for eight years before moving back to Missouri to serve as house parents at Fair Haven Children's Home from 1994 until 1997. He went on to earn his Master's Degree in Counseling from Southern Christian University and a Doctorate of Christian Counseling from Andersonville Theological Seminary. Ed and Sherry moved to Riverton 20 years ago to work with the Church of Christ. He gained his Licensed Professional Counselor certification to work with the State of Wyoming as a mental health professional in the Wyoming State Penitentiary in Rawlins, Wyoming, working directly with the inmates. He also worked in the clinic in Rawlins for several years and with C.E.S. as a contracted counselor for 10 years while ministering at the Church of Christ. Mr. Murray was a servant, counseling numerous married couples, families and individuals in need.

Ed was a friend to everyone he came into contact with. He was a big game hunter and enjoyed riding his motorcycle with friends and family, making trips to the Sturgis, Laughlin, and Phoenix motorcycle rallies as well as bike trips to California and Washington. Ed loved traveling with family and loved spending time with his grandchildren. Ed cherished his church family and they remained very important to him.

Ed is survived by his wife Sherry of Riverton; son, USAF Lieutenant Colonel, Ryan Murray and wife Erin; adopted son, Dang Murray and wife Shannon; former daughter-in-law, Lacey Welch and husband Dustin; grandchildren Tristin, Dillon, Nolan, Sam, Kira, Belle, and Treston; brother, Randy Murray of Paragould Arkansas; sister, Vicki Hendley and husband Chris of Paragould, Arkansas; brother-in-law, Rick Pendergrass and Mick Pendergrass and wife Jewel of Mountain Home, Arkansas; sister-in-law, Kay McFarland and husband Bill of Springfield, Missouri; numerous nieces and nephews.

He was preceded in death by his son, Casey; parents, Ralph and Lottie Edrington.

A scholarship endowment fund for Crowley's Ridge Academy in memory of Ed Murray has been established to provide tuition for a student who would greatly benefit from attending CRA but lack the financial resources to do so. Please visit the GoFundMe page at gofundme.com/ed-murray-scholarship-fund to make your contributions in lieu of sending flowers.

Online condolences may be made to the family at www.TheDavisFuneralHome.com

Services are under the direction of the Davis Funeral Home.