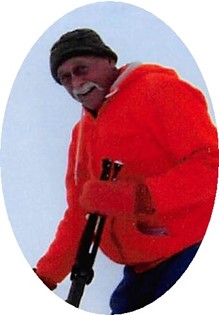 Cecil Richardson
Jul 13, 1932 - Aug 15, 2017
Cecil F. Richardson, 85, of Riverton passed away on Sunday, August 13, 2017, at Wind River Healthcare and Rehabilitation Center. The funeral service will be at 10:00 am on Friday, August 18, 2017, at Davis Funeral Home. A viewing will be from 9:00 am to 10:00 am prior to the service. Interment will be at Mountain View Cemetery.

Cecil Francis Richardson was born on July 13, 1932 in Lincoln, NE to Howard Seymore and Louise (Wempen) Richardson, Sr. He was a member of the Seventh Day Adventist Church.

He was in the United States Army as a Private. He drove truck in the Engineers Division. He was honorably discharged on March 23, 1961.

On October 14, 1955 he married Avis Jean Roe in Lander, WY. The couple were married for 61 years before Avis passed in June. They lived in Pavillion, WY for 59 years.

Cecil started working for his grandpa when he was nine years old on the threshing machines for oats and grains and stacking hay. As an adult he worked for Gilpatrick Construction, Hawley's Inc (tire and mechanic shop) and for Federal American Partners.

Cecil loved reading and was a self-taught man who remembered everything he read. He enjoyed hunting, fishing, cutting wood, especially the biggest trees, raised sheep and goats, selling the goats' milk. He was an excellent cook and loved to cook with Dutch Oven. He taught his grandchildren and anyone who called on him to cook especially bread. He and his wife also spun wool and taught many how to spin and participated in the fair. He loved his dogs.

He was a member of the local Wool Guild.

Cecil is survived by his three sons, Roger Richardson and wife Josi of Pavillion, C. Warren Richardson of Riverton, Joseph Richardson and wife Cindy of Riverton; two daughters, Rebecca Crowley and husband Dennis of Riverton, and Elaine Wiltsey and husband Robert of Midland, Texas; 17 grandchildren; 36 great grandchildren and one great great grandchild; sister, Phyllis Loghrey of Cheyenne, and LaVaughn Richardson of Pavillion; brother, Allen Richardson of Riverton: brother-in-law, Robert "Bob" Roe and wife Edith of Lander; sister-in-law, Tanya Schneider and husband Phil of Bozeman, Montana; and extended family, Wendy Humphrey, Robert Blanton and Michael Blanton.

He was preceded in death by his parents, Howard and Louise Richardson, Sr.; two brothers, Robert and Howard Richardson and a sister, Ila Larsen.

Memorials may be made to Donor's choice in care of the Davis Funeral Home, 2203 W. Main Street, Riverton, WY 82501.

On-line condolences for the family may be made at theDavisFuneralHome.com.

Services are under the direction of the Davis Funeral Home.