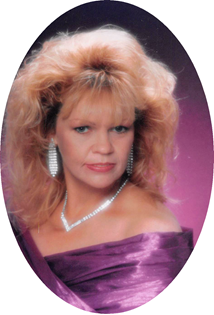 Charlotte Kay Pfeiffer-Lemley
Dec 23, 1957 - Aug 18, 2017
Charlotte Kay Lemley beloved mother, grandmother, aunt, and sister left this world August 16, 2017. She was 59 years old.

Funeral services will be held at 10:00 am on Thursday, August 24, 2017, at the Church of Latter Day Saints in Riverton, WY, 430 Elizabeth Drive.

Charlotte was born December 23, 1957 in Salt Lake City, UT to Harold and LaRue Pfeiffer, where she grew up and remained until moving to Riverton, WY in 1970. She graduated from Riverton High School with the class of 1976.

She met the love of her life, Chris Lemley and they were married on March 28, 1981. She gained a daughter Lonnie and gave birth to their first son, Daniel also in 1981 and in 1983 gave birth to her last baby boy, Douglas.

Charlotte was a wonderful woman, mother, grandma, sister, aunt, and friend. Her favorite color was purple and she loved hanging out with her family, spending time with her grandson, Daniel Jr. and taking care of her clients at Community Entry Services for the last nine years.

Charlotte is survived by daughter, Lonnie Lemley; sons, Daniel Lemley, Sr. and Douglas Lemley; grandkids, Sabrina, Christopher, Thomas, Dawn Marie, Daniel Jr. Lemely, and Christine Seminole; sister Nancy Mills and husband, Brian all of Riverton; sister, Angela Pfieffer of Alaska; and many nieces and nephews.

She was preceded in death by her parents, Harold and LaRue Pfeiffer; husband, Christopher Lemley; brother, David Pfieffer; and granddaughter, Ariel Reed.

On-line condolences may be made to the family at www.TheDavisFuneralHome.com.

Arrangements under the direction of Davis Funeral Home.