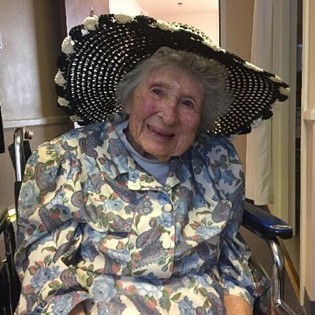 Esther May Clendenning Pickett Wells
Dec 2, 1913 - Aug 18, 2017
Esther May Pickett Wells

Longtime Dubois resident Esther "Es" May Clendenning Pickett Wells died August 18, 2017, in Lovell, Wyo.

Services will be held Thursday, Aug. 24 at 2 p.m. at St. Thomas' Episcopal Church in Dubois. The Rev. Melinda Bobo will officiate. A viewing will be held from noon-2 p.m prior to the funeral service. Graveside services will follow at the Dubois Cemetery. A reception will follow at the High Country Senior Center.

Mrs. Wells did not have a birth certificate so to birth dates are on record. Her date of birth according to the Social Security Administration was Dec. 2, 1913, which made her 103 years old. A U.S. Census lists her birth date as Dec. 2, 1910, which made her age 106.

She was born in Fort Wayne, Ind. to Mary Houck and Henry M. Clendenning. She graduated from high school in Manderson, Wyo. While working toward her teaching degree at the University of Wyoming, she met and married Charles William Pickett on April 2, 1933 in Harrison, Neb. and they began their family.

She worked as a rancher, school bus driver, cook and teacher.

Mr. Pickett died in 1988 and she married David Wells Sr. on June 15, 1991 in Dubois.

Mrs. Wells was very involved at St. Thomas' Episcopal Church, where she started attending worship as a young child. She tried to never miss Sunday services, but the last few years, she was unable to attend. At the age of 102, church services came to her at home and the assisted living center and nursing home. Her faith held strong throughout her life.

She was a member of the Wind River Valley Artists' Guild, the Episcopal women's guild, the VFW Auxiliary and was active in the Swedish dinner and the Dubois Sno-Katters. She was also a faithful member of the senior center, a writer and a piano player.

Mrs. Wells had many hobbies– art was a joy to her as well as working outside with her animals, flowers and gardens.

She was fortunate to travel after she was married. She and her first husband traveled around the country recruiting guests and hunters for Brooks Lake Lodge.

In the 1960s and 1970s, they purchased a coffee plantation in Paraguay, South America, where she started a school for the children of their employees, which became an official school bearing her name, the Esther Pickett School.

In retirement, she and husband Dave Wells enjoyed snowmobiling, traveling and wintering in Arizona.

She was a very good cook and enjoyed hosting social events.

She was very family oriented and she was an extraordinary part of her immediate and extended family.

Mrs. Wells is survived by her daughters, Lois Marilyn Bleak and Margaret Ellen Bleak; 12 grandchildren; 35 great grandchildren; and 25 great great grandchildren.

She was preceded in death by her parents; two husbands; brothers Fred Gloy and Chuck Gloy; sisters Hazel Gloy and one unknown; son William Charles Pickett; two grandsons; and two great grandsons

Memorial donations in her name may be made to the Dubois Senior Foundation in care of Davis Funeral Home, 2203 W. Main Street, Riverton, WY 82501.

Online condolences for the family may be made at theDavisFuneralHome.com.

Davis Funeral Home has charge of the arrangements.