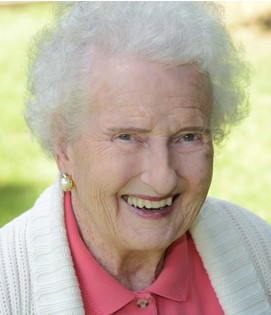 Elizabeth "Liz" Leffler
Sep 2, 1925 - Aug 18, 2017




Elizabeth "Liz" Leffler, 91, passed away peacefully on August 18th, 2017 at The Bridge Assisted Living facility in Longmont, CO.

She was born on September 2nd, 1925 in Washington, DC to Grace (Birgfeld) Murphy and Robert Murphy. Elizabeth was raised in Woodside Park, Silver Spring, and Chevy Chase, MD along with two older brothers, Don and Julian, half-sister Margaret, and half-brother Bob. She graduated from Bethesda-Chevy Chase High School and attended the University of Maryland.

She married Richard Schaefer on June 7th, 1947 in Chevy Chase, Md. They resided in Riverton, Wyoming, Richard's home, where they raised 3 children. Elizabeth was a devoted, fulltime mother and Richard was co-owner of Wind River Honey Co., along with his friend George Krause. Richard passed away on Dec. 27th, 1983. Elizabeth was remarried on February 16th, 1986 to Harrison Leffler of Rockville, MD., where they made their home for a short period of time before choosing to move back to Riverton to be near Liz's children and grandchildren. Harrison passed away on April 6th, 2010 and Elizabeth remained in Riverton until 2014 when diminishing health prompted her family to move her to The Bridge Assisted Living facility in Longmont, CO., near her son and his family. She, together with her beloved cat, Paige, remained at The Bridge until her death.

Elizabeth was a devoted and caring wife, mother, grandmother and great grandmother. She and her husbands had many wonderful friends in Riverton as well as Maryland and spent much of their time socializing and traveling with those friends. She was an active member of P.E.O for 63 years. Her other interests included golf and travel but her true love was her family. She took great pleasure in her later years enjoying the company of the many great grandchildren who blessed her life.

Elizabeth is survived by her three children and their spouses, Linda Sinicki (Mike) of Riverton, WY, Kathleen Shanor (Marc) of Nevada, TX., Jim Schaefer (Karalee) of Longmont, CO, 8 grandchildren, and 18 great grandchildren. A celebration of life ceremony will be held at Davis Funeral Home in Riverton, Wyoming on September 2nd, her birthday, at 10:00 AM. A luncheon will be held at The Reach Community Room following graveside services at Mountain View Cemetery in Riverton. In lieu of flowers, donations may be made to the Michael J. Fox Foundation for Parkinson's Research.

On-line condolences for the family may be made at theDavisFuneralHome.com. Services are under the direction of the Davis Funeral Home.