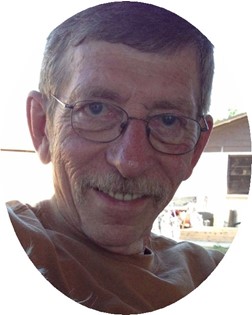 Fred Santee
Mar 3, 1952 - Aug 26, 2017
Fred Santee, 65, of Riverton ascended into Heaven on Saturday, August 26, 2017, at the Wyoming Medical Center in Casper, WY. A celebration of his life will be held at 10:30 am on Saturday, September 30, 2017, at the United Methodist Church in Riverton, Wyoming.

Fred Dwain Santee was born on March 3, 1952 in Kingman, KS, the son of Rex and Esther (Kelman) Santee. He grew up around Lerado, KS and attended schools in Pretty Prairie, KS where he graduated high school. His career training came from Climate Control Institute.

Fred was an invaluable pilgrim of The Big Horn Walk to Emmaus Community for over 20 years. During this time, he served as Christ's hands and feet to many people. He was also a member of the United Methodist Church where he performed with the Chancel Choir.

On July 9, 1976, he married his beautiful bride of 41 years, Billie Jo Massey, in Miami, OK. They started their family in Pretty Prairie, KS which grew to four children. They continued to raise their family in Riverton, WY making it their forever home.

He started his career with Rodney's Refrigeration in Wichita, KS. In August of 1990 the family moved to Riverton, WY where Fred started his own business, Climatec Refrigeration Inc. Fred provided excellent customer service to businesses in the Wyoming counties of Fremont, Hot Springs, Washakie, Park, and Big Horn.

In the mid 80's Fred performed with the Hutchinson Salt Miners Barbershop Chorus and in the recent year he became a member of the Riverton Rock and Gem Club.

Fred loved being with his family, watching his children and grandchildren's activities and attending extended family gatherings. Fred and Billie Jo rode their Harley on numerous trips to see many of the national parks and visit family. They even ventured into Canada. They loved to travel and were planning their next great adventure which included the rebuilding a classic airstream camper.

He is survived by his wife, Billie Jo Santee; sons, Jeramie Santee, Wichita, KS, Clint Santee (Tanya), Riverton, WY; daughters, Kristal Harris, Spring Creek, NV, Lori Sanders (Scott), Riverton, WY; brothers, Barry Santee (Karen), Hutchinson, KS, Brent Ravens (Lisa), Pretty Prairie, KS; sisters, Sherlyn Weston, Shawnee, KS, Linda Frazee (Ron), Topeka, KS, Janeen Albright (Ed), Haven, KS, Lisa Potter (Dave), Kingman, KS, Corlis Meis (Ed), Pretty Prairie, KS, Marsha Arpin, Pretty Prairie, KS; and eleven grandchildren.

He was preceded in death by his father and mother; step-mother of 48 years, Lela Ravens-Santee; brother, Ronald Santee; and grandson, Jaeden Harris.

Memorials may be made to The Big Horn Walk to Emmaus Scholarship/Fred Santee in care of Davis Funeral Home, 2203 West Main Street, Riverton, WY 82501.

On-line condolences may be made to the family at www.TheDavisFuneralHome.com.

Arrangements under the direction of Davis Funeral Home.