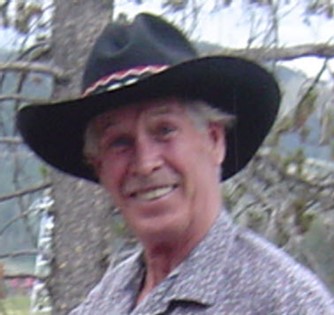 William "Bill" McBride
Nov 12, 1941 - Sep 1, 2017
William John "Bill" McBride died peacefully at home September 1, 2017 but the memory of his ever present smile will never be forgotten by his family, friends, and the community of Dubois where he made his home for the last 50 years.

Bill was born in 1941 to Rollo and Mariann McBride in Reno, NV and attended the University of Nevada, Reno. Bill further acquired a Communications Technology certificate from SCTE. He was drafted by the Dodgers baseball farm team (Phoenix) in 1961. Bill met Leanna "Mickey" McGuire while they were both working for different companies at the atomic energy test site near Las Vegas, NV. They married in 1965 and began a long and adventurous life together.

Most of their life was spent in Dubois Wyoming, but work also took them to places like Bermuda, Florida and Alaska. His work centered around utility construction until his retirement in 2008. Although he was involved with telephone, electric power and television it was the latter that showed his pioneering engineering skills. Being the Chief executive officer of Intermountain Cable Construction Bill planned, designed and owned and operated cable TV systems in Wyoming and Nevada. It was his many hobbies, rather than his work that really defined the person Bill was. He collected HO miniature trains and had an elaborate set up at his home. He loved shooting his black powder rifle, fur trade reenactments, and building cannons. For 10 years he and Mickey owned a sail boat and scuba dived in Bermuda. He was an expert gardener and even in declining health could be seen on his beloved lawn tractor.



His life was made up of public service. He volunteered as a fireman for 28 years and served as chief of the Dubois volunteer fire department. He was a Boy Scout and leader for 25 years. His home was always open to shelter anyone needing a temporary refuge. He was a founding member of Dubois Volunteers Inc. Mickey believes that he was proudest, though, of bringing Wyoming Public Broadcasting to Dubois via a portable setup at the school and later, donating an electronic site in connection with family cable TV business.

Commendations include the Theodore Vail Award for noteworthy public service for a mountain rescue in Nevada. His work to organize the national rendezvous near Dubois at Moccasin Basin in 1987 earned him the prestigious Segundo medal and a National muzzle loading Rifle Association and National Association of Primitive Riflemen award. Bill was also a member of the Blue Lodge of the Masonic Order and Hugh de Payen No. 7 of the Knights Templar. He was a member of the IBEW.



Bill recounted his Alaska plane flight thru the Northern lights as he said it was so incredible "I was with God." How could anyone forget Bill and Gary painting the center line green all the way to McGuire's house, on St. Patrick's Day. … refusing to pay bail when he was in jail with others for shooting the cannon blanks down town on the Fourth of July.



Surviving are his wife, Mickey, his two sons Laird and Lance McBride; daughter-in-law Enid; Bills true heritage is his 9 grandchildren Kira (Kennedy), Brian, Tirzah, Teresa, Jadzia, Mariah, Cassandra, Thomas and Jacinta; his great grandchildren Wesley, Shadrack, Ronan, Axil, Ezra and baby girl on the way.

Bill was proceeded in death by his mother Marion (Bell-Wines granddaughter of William J Bell) McBride father Rollo McBride Brother Mickey McBride.

Services will be held Friday September 15, 2017 at 11 am at the Dennison Lodge in Dubois Wyoming followed by a celebrating his life. Beer, soft drinks and a main dish will be provided Salads and desserts would be appreciated. There will also be a Rosary and prayer on Thursday the 14th of September at 4:00 p.m. at the Our Lady of the Woods Catholic Church. For those wishing to do so, in accordance with Bill's wishes, a portion of donations to the service will be going to the Dubois Volunteer Fire Department.

On-line condolences may be made to the family at www.TheDavisFuneralHome.com.

Arrangements under the direction of Davis Funeral Home.