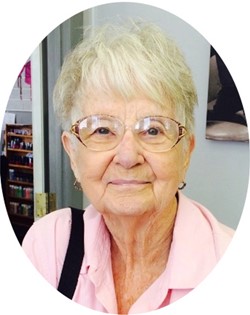 Phyllis Pigg
Oct 14, 1934 - Sep 29, 2017
Phyllis Pigg, died on Friday, September 29,2017 at the age of 83, at the Riverton Memorial Hospital due to heart failure. Viewing will be held from 5:00 – 7:00 p.m. Thursday, October 5, and one hour prior to the funeral services. Funeral services will be at the Davis Funeral Home, Friday October 6, 2017 at 2:00 p.m. Burial will follow at Mountain View Cemetery.

Phyllis was born on October 14, 1934 to Irvin and Lenna (Woodward) Kimball on the family farm in Glendive, Montana. She completed her high school education in Savage, Montana. As a young girl, Phyllis worked as a phone operator, grocery clerk and on a corn processing plant. She then met Lonnie Leon Pigg and they were married on November 15, 1952 and of that union Steven, Doug, Nancy and James were born. Early in their marriage Lonnie and Phyllis lived in various parts of Montana and Wyoming while following work in the oilfields. Later they made their home in Riverton.

As the family was getting older Phyllis decided to work outside of the home where she worked for Riverton Memorial Hospital as an X-ray assistant for many years. She went on to be a cook and a substitute cook for School District #25.

Phyllis was an avid yard saler and enjoyed playing pinochle at the Senior Citizens Center. In her younger years she enjoyed gardening, canning and baking. Most of all she enjoyed spending time with her family.

She is preceded in death by her parents; husband - Lonnie Pigg; son – James Pigg; granddaughter - Michelle Wempen; grandson – Jeffrey Novotny ; great grandchildren, Chaunieze Pigg and Cole Swanson and brother – Wayne Kimball.

She is survived by sons – Steven Pigg (Roberta) & Douglas Novotny (Nancy); daughter – Nancy Wempen (Les); grandsons – Chris Pigg, Andy Wempen, Cody Pigg & Hayden Wempen; granddaughters - Janelle Smith, Brittany Morsco (Joe), Shelby Gustafson(Kevin), Tonia White, & Mindy Rutherford; 11 great-grandchildren; and sisters – Dorothy Stoner and Margory Valsvig.

Memorials may be made to Donor's Choice in care of Davis Funeral Home, 2203 West Main Street, Riverton, WY 82501.

On-line condolences may be made to the family at www.TheDavisFuneralHome.com.

Services under the direction of Davis Funeral Home.