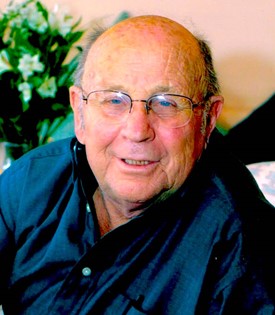 Elbert Berger
Apr 5, 1934 - Sep 5, 2017

Elbert Berger April 5, 1934-September 5, 2017

Elbert Berger passed away on September 5, 2017, at the Armed Forces Retirement Home in Gulfport, Mississippi after a yearlong, hard-fought battle with esophageal cancer. He was 83. His daughters, Doris and Laura, were at his side.

Elbert had a very full and interesting life. He was born in Thermopolis, Wyoming to Dorothea and Ernest Berger. At age 2 his mother moved his sister Britta and him back to East Germany, where he lived with his half brothers Hans and Klaus until 1948. At age 14 he returned to his father in Wyoming where he learned to cowboy on the Bow & Arrow Ranch and attended Shoshoni High School until graduation in 1954. He joined the Air Force in 1955 and met his wife, Gabriella, when stationed at Aviano AFB in Italy. They married in 1958, had three daughters, toured Europe and the U.S. together, then divorced in 1977. He never remarried but enjoyed a longtime companionship with Trudy Baudinat. In 1978 he retired from the Air Force at Robins AFB, Georgia then settled in the Denver area. After his USAF retirement he worked as a courier for Pony Express for many years. In 2011 he accepted a room at the Armed Forces Retirement Home in Gulfport, Mississippi, his "condo on the beach", where he would spend his winters, always returning to Colorado in the spring. He developed many great friendships there and received excellent care until the very end.

Elbert was a jovial wanderer who truly appreciated the simple things in life. Generous in nature and always quick with a smile and a joke, he was a friend to many. He loved to dance. He was an avid volksmarcher both in Europe and in the U.S. and walked in 50 states including Alaska. After retiring he spent much time driving cross-country on back roads, pulling his latest camping rig. He loved nature (especially the mountains) and animals (especially dogs). Having served his country for 23 years, he was extremely patriotic and had a particular affinity for the American flag. He prized his German heritage and his home state of Wyoming equally. He loved his three girls…Doris, Lina and Laura.

He is survived by his brother Klaus Berger and nieces/nephews of Sweden, daughter Doris LeDue, step grandchildren Scot and Marc (Jennifer) and great grandchildren Heather, Matthew, Lauren, Lindsey and Lexie LeDue of Colorado, daughter Laura Tuttle (John) and grandchildren Kaela and Nick Tuttle of California, granddaughter Lea Woolf of Louisiana, Trudy's children Jim Baudinat and Barbara Baudinat-Hacke and grandchildren Alex, Tyler and Nicolette.

Please join us for an Oktoberfest Celebration of Elbert's Life on Sunday, October 15 at 3:00 pm at Bender's Brat Haus, 700 South Buckley Road, Aurora, CO 80017. His ashes will be spread in his beloved Rocky Mountains and also buried with his parents at Lake View Cemetery in Shoshoni, Wyoming on Monday, October 16, at 3:00 pm. Contributions may be made in his honor to the Crazy Horse Memorial (605)673-4681, www.CrazyHorseMemorial.org, a cause that Elbert held dear. On-line condolences may be made to the family at www.TheDavisFuneralHome.com.

Services are under the direction of Davis Funeral Home.