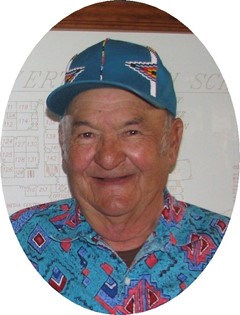 Leo W. Hanway, Sr.
Mar 2, 1936 - Oct 13, 2017

Leo W. Hanway, Sr., 81, of Arapahoe, passed away on Friday, October 13, 2017, at his home. A viewing will be held from 5:00 pm to 7:00 pm on Tuesday, October 17, 2017, at Davis Funeral Home. A rosary will follow at 7:00 pm. A memorial service will be at 10 am on Wednesday, October 18, 2017, at St. Stephen's Catholic Church. Interment will follow at the Arapahoe Catholic Cemetery with military honors. At his request there will be no wake, feast or giveaway.

Leo Wesley Hanway was born on March 2, 1936 in Arapahoe, WY to William Jacob and Susie Edith (Miller) Hanway. He attended local schools until the age of 12 when he went to Haskell Boarding School in Lawrence, KS where he graduated with his high school diploma. After graduation he enlisted in the U.S. Marine Corp and served during the Korean War.

He was honorably discharged from the service on April 28, 1958 as a PFC. He returned to the Wind River Reservation where he made his forever home.

On July 17, 1965 he married Azalea Mae Waterman. Together they had three sons, Leo, Bridger, and Roberto. They also took; Robin, Billye Ann, William, Sam, and Clarence as their own. Azalea passed away on October 16, 1986.

Leo worked for the Jeffrey City School system for approximately seven years as their maintenance personnel before moving to the Arapaho School system to work in their maintenance department for sixteen years before retiring.

He enjoyed rock hunting, fishing, hunting, old country western music, going to the casino, P.B.R. and the Indian Relay Races. He loved spending time with his family and especially hanging out with his grandkids.

He is survived by his sons, Leo W. Hanway, II, Bridger B. Hanway and wife, Christyl, Roberto "Bert" Hanway and wife, Shanna, William "Bill" Burgess and wife, Vanessa, Sam Dresser and wife Kathy, and Clarence Ouray and wife Estelle; daughters, Robin Walker and husband Jim, and Billye Ann "Tweety" Shangreaux; grandchildren, Azalea, Karen "Annie", Jalene, Cimmiron, Aioynna, Dorian, Jacob and family, Cassie and Jason Deen and children, Jacob Burgess and children, Luke and Zoey Walker, Gilbert Catha, Lista Catha and son Ivan Pine Jr., Bridgette Shangreaux, and numerous grandchildren from the Dresser family, Monroe family, Whiteplume family, and Waterman family; Aunt, Dorothy Pinney; and the families of the Hanway's and Miller's.

He was preceded in death by his parents, William and Susie Hanway; wife, Azalea Hanway; and sisters, Mary Truesdell and Florence Burgess. As well as his Grandparents, numerous aunts, uncles, and cousins. On-line condolences may be made to the family at www.TheDavisFuneralHome.com.

Services under the direction of Davis Funeral Home.