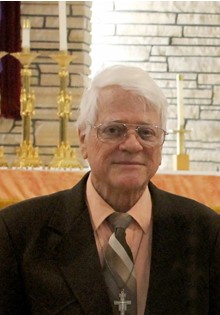 Douglas "Doug" Stockton
Apr 15, 1943 - Nov 11, 2017
A Memorial Mass for Douglas "Doug" Robert Stockton, 74, will be held at 12:00 noon., Monday, November 20, 2017 at the Holy Rosary Catholic Church with Father James Schumacher officiating. Memorial contributions to the St. Walburga Abbey in care of Davis Funeral Home will be appreciated.

Mr. Stockton died on November 11, 2017 at the Help for Health Hospice Home in Riverton, Wyoming surrounded by his family.

He was born on April 15, 1943, son of John R. and Gwendola (McDaniel) Stockton, in Austin, Texas. Doug graduated high school in Minnetonka, Minnesota and went on to graduate from Eastern Kentucky University in 1967 before receiving a Master's Degree from Morehead University in Morehead, KY.

On April 8, 1967, Douglas married Jacquelyn Farwick in Richmond, KY. The couple moved to Lander September of 1986.

For 10 years, Mr. Stockton worked in Music Education in the mountains of Appalachia before teaching music education in Ohio, North Dakota, Minnesota and South Dakota. For 19 years, Doug taught Music and Photography at the Wyoming Indian Schools.

Doug had a passion for the art of photography and petroglyphing.

Mr. Stockton was an active member of the Holy Rosary Catholic Church serving as the Eucharistic Minister to nursing homes and shut-ins. He also served as the Sacristine to Father James Schumacher and was an Altar Server during Daily Mass. He also volunteered as a bugler during military funerals and Benedictine Oblate.

Survivors include his wife of Lander; their sons, Christopher and his wife, Dansie Stockton of Lander and Patrick Stockton of Lander; daughters, Danette and husband, Patrick Lawson of Riverton, Rachel-Marie and her husband, Micheal Boughton of Aurora, CO, and Catherine and her husband, Clayton Baehr of Lander, WY; brothers, James, Richard and Denny Stockton; sisters, Andi Fox and Joyce Eldridge; 7 grandchildren.

He was preceded in death by his parents.

On-line condolences for the family may be made at theDavisFuneralHome.com. Services are under the direction of the Davis Funeral Home.