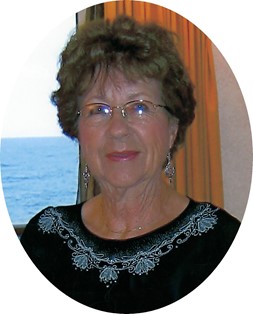 Darlene Chamberlin Madrigal Chabo
Feb 18, 1933 - Nov 20, 2017
Darlene Chamberlin Madrigal Chabo, 84, of Riverton, Wyoming went to be with our Lord Jesus Christ after peacefully passing away at home on Monday, November 20, 2017.

Viewing will be held on Friday, November 24th, from 5-7 p.m. at Davis Funeral Home. The Celebration of Life Service will be held at the same location on Saturday, November 25th, at 1:00 p.m. and will be conducted by Pastor Ian McFarland of the Cornerstone Community Church. Burial will follow the service at Mountain View Cemetery in Riverton, WY.

Darlene was born on February 18, 1933 in Fort Washakie, Wyoming. She was the daughter of Jesse and Esther (Collins) Chamberlin and was one of many sisters in a family of all girls.

While attending high school in Midwest, Wyoming, she began her faith in our Lord and was saved as a Junior. Following graduation from Midwest, she attended a Bible college in Iowa. Due to financial difficulties, she returned to Wyoming where she married Ruben Lawrence Madrigal in 1952.

Darlene and Ruben started a family while owning and operating Maddy's Texaco Service Station in Casper, Wyoming. Darlene also worked part-time at Bowman Biscuit Company, Cream of Weber, and Wyoming Wholesalers. They had four children, David, Steven, Annie (Bloomquist), and Jeffrey.

Ruben passed away April 5, 1999. Darlene remarried Edward Dorsey Chabo in 1987. Darlene spent much of her time at her residences in Riverton, WY and Buffalo, WY, while wintering in Mesa, AZ.

Darlene had many occupations including: working for the State of Wyoming at the Western Wyoming Area Agency on Aging, working in Administration for the Arapaho Tribe, and retired as the Director of the Northern Arapaho and Shoshoni Head Start Program.

Darlene lived a life defined by her faith in our Lord Jesus Christ. She always made family a priority, whether that was taking care of her grandchildren or supporting her children through every circumstance. She never gave up on anyone she loved. She was a devoted member of St. Mark's Episcopal Church in Casper, where she sang in the choir and was a member of the VFW Women's Auxiliary. She was a professional artist and participated in many art exhibits where she repeatedly took home prestigious awards. Her art consisted of paintings, drawings, and Native American bead work. She was an avid fisher and knew the ins and outs of stream fishing, lake fishing, and Alaskan fishing. She loved to camp and loved boating, fishing, and relaxing at the family cabin. She also loved to play card games and frequently beat everyone at the table.

Darlene enjoyed sharing memories and stories with her family from her full life. She told stories of growing up on her parent's ranch, being a rodeo queen, and her hilarious adventures with her many sisters.

Darlene was preceded in death by her parents, Jesse and Esther (Collins-Spoonhunter) Chamberlin, her husband, Ruben Lawrence Madrigal; her sisters, Hazel Schlencke, Faye Mann, Jean Slattery, Joy Taylor, Ellen Givens, Esther Allen, baby, Joy Chamberlin, 3 infant sisters, and her grandson, Caleb Madrigal.

Surviving Darlene are husband Edward Dorsey Chabo; her four children and their spouses, David and Dolly Madrigal of Missouri, Steven Madrigal of Casper, Wyoming, George and Annie Madrigal Bloomquist of Shoshoni, Wyoming, Jeffrey Madrigal and Olivia Washington of Arapaho, Wyoming; her sisters, Fern Luster of Oklahoma and Anne McIntosh of Riverton; her grandchildren, Antonia Frattarola, Tabitha Madrigal, Seth Madrigal, Whitney Madrigal, Josiah Washington, Kaden Bloomquist, Bailyn Bloomquist, and great grandchildren and many nieces, nephews, and loved ones.

On-line condolences may be made to the family at www.TheDavisFuneralHome.com. Services are under the direction of Davis Funeral Home.