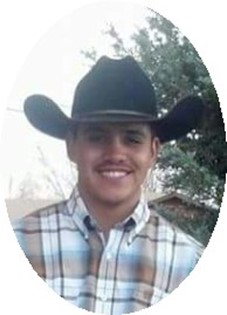 Coulston Spoonhunter
Sep 30, 1993 - Nov 24, 2017


Coulston Spoonhunter, 24, of Riverton, passed away on Friday, November 24, 2017. A rosary will be recited at 7:00 pm on Monday, November 27, 2017, at Davis Funeral Home. A wake will follow at 140 Bee Road in Riverton. The funeral service will be held at 10:00 am on Tuesday, November 28, 2017, at St. Stephen's Catholic Church with burial to follow at Warren Cemetery.

Coulston Skyler Spoonhunter was born on September 30, 1993 in Riverton, WY to Deanna May Warren and Lyle Spoonhunter. Coulston was raised by his mom and dad, Deanna and Thomas Alan Williams. He lived in Riverton all of his life. He graduated from the Wyoming Cowboy Challenge in Gurnsey, WY where his favorite teacher was Mark Knickerbocker. He was baptized into the Catholic Faith.

He started working in the oilfield at a young age. He was a honest, loyal, and a dedicated hard worker.

Coulston was a loving father, brother, son, uncle, friend, family man. He thought the world of his daughter, Skyla, grandma Eleanor, significant other, Hailee Lynch, mother and father, Tom and Deanna, He was an inspiration and loving role model to his brothers and cousins. He had strong traits of being adventurous, loving, kind, honest, and smiled at everyone. He preserved at any task that was given to him with love, kindness, and generosity. He was an avid hunter and fisherman, and would lend a hand to anyone needing help. Coulston will be dearly missed by his family and friends.

He is survived by his daughter, Skyla Kae Spoonhunter; long time significant other, Hailee Lynch; parents, Thomas and Deanna Williams; brothers, Tanner Williams and Sorrell Williams; sister, Sandy Williams; grandparents, Eleanor Warren, Melody Williams, and Richard Williams; special aunties, Momma Susan Johnston and sister, Tenielle Johnston, and Shine Tidzump; aunts Janet Potter, Judy Roman, Dori Fritz, Darlene Shockley, Velva Warren, Benetta Warren, and June Arthur; and uncles, Collie Warren, Matt Warren, Jerry Warren, Russ Warren, David Rael, Kurth Warren, and Benjamin Warren; and numerous cousins, relatives, and many loving friends. He was preceded in death by his father, Lyle Willard Spoonunter; grandpa, Benjamin Warren, Jr.; aunts, Becky Warren and Roberta Warren; uncle, Michael Blackburn; and cousin, Taylor Harris.

On-line condolences may be made to the family at www.TheDavisFuneralHome.com.

Services under the direction of Davis Funeral Home.