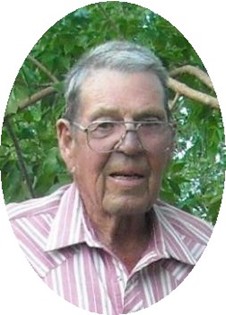 John Herbst
Apr 11, 1931 - Dec 9, 2017
John Herbst Jr. passed away on December 9, 2017 in Shoshoni, Wyoming at the family home at age 86. John was born April 11, 1931 in a log house along the Wind River near Shoshoni, Wyoming to Johann "John" Herbst and Marie Herring Herbst. John's family ran a dairy and had a small cattle ranch and later when Boysen Dam was filled their family moved to property just a mile west of Shoshoni. He loved horses and rounded up many wild horses off Copper Mountain. He graduated from Shoshoni High School in 1950. On March 4, 1956 John married the love his life Lorraine Mary Madeleine Mazet who he met while doing combine work for the Mazet family in the Riverton Valley.

John and Lorraine lived in the Missouri Valley for 17 years on the family farm that was directly across the road from the Myron Jarvis farm and ranch. The family ranch and farm expanded over the years. During those several years they had three children. In 1973 his father died and he bought the ranch from his mother. His mother decided to build a home in Shoshoni and it was decided to move the family into the ranch house just west of Shoshoni. In 1988 Lorraine was diagnosed with cancer and John was widowed in 1989. John worked together with his son Tom over the next 28 years.

In his later years John would drive to Copper Mountain and enjoy watching and checking on his horses. He loved taking his grandchildren up to the mountain and tell them stories of his childhood and early adult years. And as his health deteriorated he still could talk for hours about the old timers and the stories of the Shoshoni area. He will be missed by his family and his friends for whom he loved and cherished. We will miss you Dad, Granddad, and friend.

John is survived by two sons, John (Linda) Herbst of Ogden, UT, Tom (Michele) Herbst of Huntley, WY and one daughter Sharon (Kelly) Sauer of Riverton, WY. Grandchildren: Jennifer Sauer Morrow, Jordan Sauer, Matthew Herbst, Garrett Herbst, Anne Marie Herbst Satterthwaite, and John Herbst VII. Great-Grandchildren: Mathew Wraith Cruse, Brayden Daniel Martin and Emmett Lee Herbst. Sister Almira Herbst Coplin of Stockton, CA and Sister-in-Laws Jackie Mazet and Doris Portschy Mazet of Riverton.

John was preceded in death by wife Lorraine, parents John and Marie Herbst, brother Charles Herbst, sister Doris Herbst King, and a nephew Charles Parrott.

The Herbst Family would like to thank the Frontier Home Health and Hospice for the loving care they gave to John and for the family, friends, and neighbors who helped while he was sick. We are thankful for all who helped make it possible for him to live out his days in the comfort of his home.

Memorials may be made to the Shoshoni Senior Center or Frontier Home Health and Hospice in behalf of the deceased.

A Celebration of Life dinner in behalf of John Herbst Jr. will be held at the Shoshoni Senior Center on December 15, 2017 at 3:00 pm. All of our family and friends are welcome.