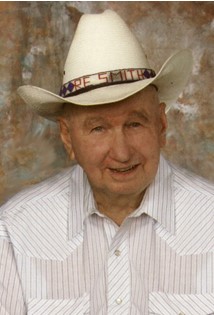 Raymond "Gene" Smith
Feb 16, 1919 - May 7, 2007

Funeral services for Raymond E. "Gene" Smith of Riverton will be at 2 p.m. Friday, May 11, at the Davis Funeral Home of Riverton. Pastor Jon Martin will officiate.

Cremation has taken place and committal rites will be by the Wyoming National Guard.

Mr. Smith died at his home in Riverton Monday morning, May 7, 2007. He was 88 years old.

Raymond Eugene Smith was born in Clinton, Ill., on Feb. 16, 1919, the son of Raymond Smith and Nina (Locke) Smith. He grew up on ranches in the Midwest and Edgerton area of Wyoming and worked on ranches until he went into the Army in 1939.

He served with the U.S. Army during World War II, serving with the 11th Airborne. Mr. Smith was awarded various medals for his military service.

Upon discharge in 1944, he returned to the Midwest area to cowboy. There he met his future wife Helen Jean Webster and they were married in Casper on Sept. 30, 1946.

Mr. Smith went into the construction business, running heavy equipment for Brasel and Sims, Gilpatrick Construction, and several other construction companies. Following that, he went to work for the uranium mines in the Gas Hills, working the longest for Pathfinder Mines. He retired from Federal American Partners in 1982.

The couple operated their Smith Trucking Company for five years.

In addition to working as a cowboy and trucker, Mr. Smith owned 160 acres on the west side of Ocean Lake, formerly the Harold Schmidt place.

He was a member of the Veterans of Foreign Wars in Riverton, Casper, and Midwest, and the Eagles Lodge in Riverton.

His family said Mr. Smith broke horses beginning at the age of 13 and enjoyed fishing, hunting, camping, and snowmobiling.

Survivors include sons, David Smith and his wife Sharon of Riverton, and Dale Smith and his wife Lesli of Ely, Nev.; two daughters, Donna Goodman and her husband Chuck of Riverton, and Darla Henderson and her husband Roger of Greybull; 11 grandchildren, Laurie, Russell, Jed, Jenny, Danny, Breezy, Amy, Laura, Carrie, Teri, and Ashley; 13 great grandchildren, Drake, Shawnee, Brandon, McKayla, Jacob, Nicole, Macalay, Hyson, Devon, Shane, Shania, Kyle, Jacob, and Anthony; a half brother, Harvey Carson, Jr., of Georgetown, Texas.

He was preceded in death by his parents; a sister, Esther Locke Smith and step-brother, Darrell Carson.

Memorials may be made to Little Wind Hospice, in care of the Davis Funeral Home, 2203 West Main, Riverton, WY 82501.

On-line obituaries are available and condolences for the family may be made at: thedavisfuneralhome.com

Services are under the direction of the Davis Funeral Home of Riverton.