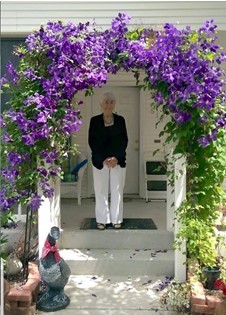 Edith "Ellie" Urbigkit
Dec 24, 1928 - Feb 1, 2022
Ellie Urbigkit (1928-2022)

Edith Eleanor Adams Urbigkit was born on Christmas Eve, 1928 in the Arapahoe, Wyoming home of her parents Vern "Bill" and Opal Adams, and spent most of her 93 years in Fremont County.



Ellie grew up a tomboy on the Riverview Road farm established by her parents outside of Riverton, taking pleasure in raising purebred Hampshire sheep and spending time outdoors. With Opal passing away when Ellie was a child, widower Vern raised Ellie and her two siblings while tending the farm, where he remained until his death at age 99.



Ellie attended Riverton High School, growing into a beautiful young woman and marrying Crowheart cattleman Carl Miller Urbigkit on June 9, 1951. Their union was soon blessed by the births of their five children: Walter Vern, Carl Michael, James Richard, Laurie Jean, and William Arthur. Carl had become a county extension agent and the family lived for a time in Crowheart, Cody, Pinedale, and North Platte, Nebraska.



With Carl's tragic death in Nebraska on Dec. 20, 1966, Ellie had become a widow with five young children, and she sought the comfort of home, packing up the kids and moving back to her father's farm on Riverview Road.



With little Laurie helping her mother to raise and manage four rowdy boys on Grandpa Bill's farm, Ellie was a long-term employee of a few Riverton businesses over the years, including a local gift shop, a stock exchange, and later in life, at the Riverton Senior Citizens Center, where she later served on the board of directors.



Raising a family of five was in itself a full-time job, but Ellie relished in raising her children on the farm. As each child ventured out into the world on their own, the farm remained the gathering place for four generations of extended family. After her father's death in 1998, the farm was sold and Ellie moved to Riverton, where she remained until her passing on February 1, 2022. Her brother Dick was Ellie's next-door neighbor until his death in 2017.



Ellie loved being surrounded by family, and took special pride in her grandchildren, and in being Grandma Ellie. An enthusiastic gardener, Ellie transferred her skills from large garden plots on the farm to a smaller backyard garden in Riverton. She enjoyed socializing, reading, baking, and practicing various forms of art, including singing, oil painting, playing piano, and creating beautiful quilts.



Grandma Ellie's homemade cookies were famous and were shipped all over the country to family members, with some even delivered to those serving abroad in the military. Ellie was tickled just over a year ago when the news media reported her latest nickname: Cookie Grandma. Ellie had spent the first year of the covid pandemic baking eight dozen cookies a week for first responders in Fremont County, so Grandma Ellie's cookies got an even broader reach. It was a simple way she shared her love with many.



Ellie was a devoted Catholic and parishioner at St. Margaret's Catholic Church in Riverton. As Laurie said, "She is with the Lord now, probably baking cookies or cinnamon rolls, or chasing after baby lambs in a field of clover."



Ellie was preceded in death by her parents, siblings Vern "Dick" and Betty, husband Carl, sons Walter Vern and William, and grandson Gabriel Stickels.



Ellie is survived by her children Michael (Annice) of Malaysia, James (Cat) of Boulder, and Laurie (Russ Rauchfuss) of Cody; nine grandchildren: Dani (Noel) Cooper; Tyler, Kyle (Brittany) Michaela, Justin, and Cass (Maggie) Urbigkit; Nicci (Marty) Holdren; Jennifer (Mike) Hinkle; and Amanda Crichton; 10 great-grandchildren: Willa Holdren, Cessie Romero, Cory Lynn, Tyler Schamber, Kaitlyn Schamber, Cadence Burns, Fynn and Arlo Urbigkit, and Gabriel and Zaiden Cooper; and 2 great-great-grandchildren: Kendryk Dale and Benjamin Gaudern; as well as numerous cousins, nieces and nephews.



The rosary will be prayed at 6 p.m. on Friday, Feb. 4, at Davis Funeral Home, 2203 W Main in Riverton. Funeral Mass will be held at 1 p.m. on Saturday, Feb. 5, at St. Margaret's Catholic Church at 618 E Fremont Avenue, followed by burial at Mountain View Cemetery, 3540 W Main in Riverton.



In lieu of flowers, the family requests donations be made to your favorite charity.

Services under the direction of Davis Funeral Home.