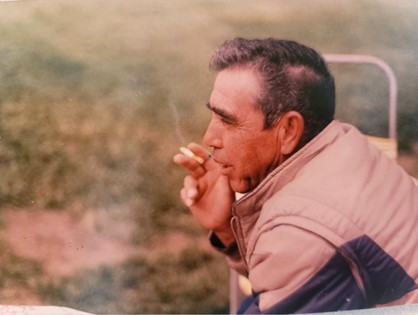 Emilo Vigil
Feb 15, 1938 - Feb 10, 2022




Emilio Vigil passed away on February 10th, 2022 in Riverton, Wyoming. He was born in Cimarron, New Mexico on February 15th, 1938 to Brigido and Angelica Vigil.



Emilio was the epitome of a wonderful supportive husband and father. He always had a compliment for our mother every day, such sweet things like "doesn't she look nice" or "isn't your mom so beautiful". They were married for 63 long life filled years raising 3 girls, 5 grandkids and 11 great grandkids together during that time.



Emilio was always proud and supportive of his wife Helen and his girls. He encouraged all of us to further our education even supporting Helen(mom) when she attended school to further her career.



Sitting down every night for dinner around the table is a fond memory of all the girls. It was during this time that he would encourage us saying we could do anything a man could and that we could probably do it better. He made good on those promises by teaching us to take care of ourselves in many ways including changing oil and tires on our own vehicles.



There wasn't anything he couldn't do. Woodworking, electrical, plumbing and everything in between. He was an accomplished handyman in all of these aspects but had a particular love for gardening. For a while he had his own small greenhouse and enjoyed cross pollinating the plants in his garden.



Emilio had a deep love for nature and was an outdoorsman through and through. He enjoyed being in the mountains or lake camping with his family. He taught all of his kids how to fish, the best way to catch them, gut them and cook them up. He also taught several of his nephews how to hunt taking them hunting every season he could.



He was a great cook and one of his specialties was making jerky. He would use different spice combinations and loved to share his creations with everyone brave enough to try them.



Many animals considered Emilio the neighborhood vet. He had a habit of being so loved by animals he ended up taking over the ownership of several family pets who just never wanted to go home from Grandpa Doggy Daycare. He had such a love for dogs that he always had one by his side. Despite his wife Helen not being a fan of pets in the house she always tolerated his love of animals allowing the dogs to stay inside. He also had some wild rabbits, squirrels and birds come around regularly as if they were his pets too. It was as if they just knew he was a safe loving man to spend time with.



Raising a family he taught us how to respect ourselves and others. Every lesson passed down and every story he told will live on through his children, grand children and great grand children. He will be missed so much by so many people.



Emilio is preceeded in death by his daughter Debbie Funke, his parents Brigido and Angelica, his siblings Dan Vigil, Bonefacio Vigil, Beneranda Hernandez, Nancy Carrizales and Frank Vigil.



He is survived by his wife Helen, his daughters Marie Vigil and Ramona Vigil-Cook, his granddaughter Shamay(Shawn) Pattison with great granchildren Sophia, Shaelyn and Sabella, his grandson Derry Kintzler and great grandchildren Bryan and Daeden, granddaughter Andrea(Andrew) Fritz and great grandchildren Darian, Gabriel and Mia, granddaughter Lanaie(Daniel) Goodwin and great grandchildren Benito, Vincent and Demetrio Vietti, and grandson Adrian Cook. His siblings Anthony Vigil, Annie Mejorado, Fidelia(Pablo) Lopez, Charles Vigil, Susana Lawson, Jim(Dianna) Vigil and Marilou(John) Vaughn.

Services will be held on Friday February 18th, 2022 at 2:00pm at the Davis Funeral Home. Burial will be at Mountain View Cemetery and a celebration of life dinner will follow at St. Margaret's Gym.