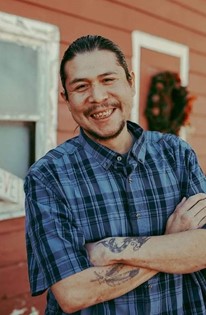 Taylor Yellowbear
Aug 10, 1990 - Mar 25, 2022
Taylor Yellowbear, 31, passed away at his home on Friday, March 25, 2022. Rosary and wake will be held at 7:00 pm on Wednesday, March 30, 2022, at #1539 Elmwood Drive in Beaver Creek. The funeral service will be held at 10:00 am on Thursday, March 31, 2022, at St. Stephen's Catholic Church with burial to follow at Arapaho Catholic Cemetery. Feast to follow at Heritage Hall, 705 Fairground Dr. Riverton, Wyoming.

Taylor Wade Yellowbear was born on August 10, 1990 in Riverton, WY to Wesley Antelope, Sr. and Martha Yellowbear. He was given his Native American name of "Niieihii hitihii Biino' " meaning Eagle Tail Feathers. He was raised in Denver, CO and then moved to the Wind River Reservation where he attended schools at Headstart, St. Stephen's High School and Arapaho Charter High School.

He was a member of the Native American Church and also a Christian. He participated in Peyote meetings and was a Northern Arapaho Sundancer. Taylor accepted Jesus Christ as Lord and Savior.

He worked as a food prepper, carpenter, laborer, flagger, and construction.

Taylor enjoyed skateboarding, drawing, gathering materials for Sundance, being supportive and helpful with cooking and cleaning. Above all he loved quality time with his son, socializing with family and friends, and being around all of nieces and nephews just enjoying being there. He also enjoyed hunting, fishing and being outdoors with family and friends.

He is survived by his son, Dredan Atreyu Yellowbear; father, Wesley Antelope, Sr; mother, Martha Yellowbear; stepdad, Vincent Kilcrease; brothers, Wesley Antelope, Jr., Dane Antelope, Nathaniel Antelope, Wilford Hill, III, Corey Hill, Donald Antelope, Branden SunRhodes, Craig Tillman, Devon Oldman, Nathan Yellowbear, Charlie Washington, Cordell Washington Jr., Shawn Limpy, Leland, Homer, Irvin, Ethan, and Dakotah Fightingbear, Gary Antelope, Darryn Davis, Franklin III and Ashton Antelope, Kalvin Yellowbear, Christopher Monroe Jr,; sisters, Kristen Antelope, Shantell Antelope, Katelynn Antelope, Alyssa Kilcrease, Summer Kilcrease, Shannon Hill, Ashley Yellowbear, Shanell Wlliams, LeAndra Washington, Mary Headley, Haley Headley, Jenea Mandan, Simone Mandan, Shanell Shamblen, Kelli Davis, and Elizabeth Pine. And numerous sisters and brothers.

He was preceded in death by grandparents Andrew Yellowbear, Sr., Emily Rose Blackburn, Mary Elizabeth Bear, Calvin Yellowbear, Sr., Mary Rose SunRhodes, Violet Yellowbear, Charlene Yellowbear, Ivan Bear, Lisa Mandan, Christopher Yellowbear, Ernest Sunrhodes III, John Willow III, Arlyn Willow, Calvin Yellowbear Jr., Vincent Yellowbear Sr,. Loretta Yellowbear, Marisssa Spoonhunter. Paternal Grandparents, Franklin, Sr. and Elizabeth (Oldman) Antelope; cousins, Ivan Pine Sr., Ian Pine, Sr., Dominic Fightingbear, Shane Limpy, Florence Pine and sisters, Annalisa Hudson.

On-line condolences may be left at TheDavisFuneralHome.com Services under the direction of Davis Funeral Home.