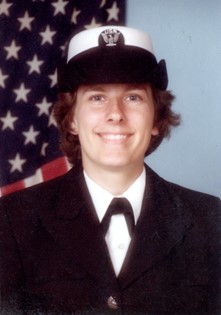 Louise Estell
Mar 30, 1960 - Apr 25, 2022

Louise Estell, 62, of Riverton passed away at Sage West Hospital – Riverton. There will be no services at this time.

Louise Elaine Gupton was born on March 30, 1960 in Lancaster, CA to Ray Miskle Gupton, III and Raylene Louise (Dey) Gupton. She attended Lemon Grove Christian School. After graduating high school, she attended Point Loma Nazarene University for 3 years studying Elementary Education. While in college she volunteered as a "Candy Striper" at the Scripps Memorial Hospital in La Jolla, CA.

Louise left school in 1984 to join the U.S. Navy, training to become an Aerographer's Mate and being stationed at the Naval Oceanography Command Detachment at Naval Air Station Moffett Field, CA. There she used her knowledge of meteorology and oceanography in observing the weather conditions and briefing aircrews that were tracking Soviet submarines patrolling off the Pacific coast.

While stationed at Moffett, Louise met and married the love of her life, Ralph Estell. They married on a weekend pass at Lake Tahoe, CA.

At the end of their active-duty tour in 1987, Louise had some reserve time to serve and Ralph naturally continued to serve as well. Louise served in various positions including, Safety Officer with Naval Reserve Meteorology and Oceanography units at NAS Alameda CA, Moffett Field CA, and Monterey CA, retiring in 2006 with 22 years of service and the rank of Aerographer's Mate Second Class. While in the U.S. Navy, she was awarded the Navy and Marine Corps Achievement Medal, US Coast Guard Meritorious Unit Ribbon, four Naval Reserve Meritorious Service Medals, National Defense Service Medal, US Coast Guard Special Operations Ribbon and the Armed Forces Reserve Medal with Silver Hour Glass device for second award.

Louise and Ralph lived in Sunnyvale, CA in the late 1980's which Louise worked for the Atari Corporation while attending De Anza College part time for two years before becoming a special education teachers' aide in the local school district. After Ralph became employed with the National Weather Service the couple transferred to Ely, NV in 1991, where they stayed for four years and she assisted in creating and opening the Ely Shoshone Tribe Pre-School program. Louise attended and graduated with an A.A. Degree in Early Childhood Education from the Northern Nevada Community College in 1995.

When the Ely weather office was set to close, the couple transferred to Salt Lake City in late 1995, for two years where she attended part time and tutored at Salt Lake Community College. The couple also became foster parents and volunteered and supported the "School with No Name" for homeless children. The couple then transferred to Riverton in late 1997. They loved small towns as well as the terrain and weather of the area. Louise attended and graduated CWC with an A.S. in Early Education as well as working as a tutor at the college and completed a year of upper division courses through the University of Wyoming. During her time in Riverton, she became very active in the community, usually serving under the radar and not looking for credit or rewards. A truly dedicated and caring person and a great organizer with a huge heart, she served as a Foster Parent and Respite Care worker for special needs children, helping out with projects and supporting the Riverton United Methodist Church, Paws for Life, Riverton Library, Fremont County Domestic Violence Riverton Shelter, the Christian Food Bank, provided backpacks of school supplies for families in need, and she loved to support the local Christmas Angel Tree programs.

She was a huge supporter of the Riverton Volunteer Fire Department, willing to assist her husband and fellow firefighters and their families, especially in fund raising events and the annual Muscular Dystrophy Association "Fill The Boot" drives.

Louise loved observing and recording the weather where ever she was. She enjoyed putting together puzzles, going for walks and long drives, sudoku puzzles, helping friends, reading inspirational and non-fiction books and watching Hallmark Christmas movies.

Since Louise never wanted any attention or accolades, she just wanted to be remembered for caring about her fellow person, she never wanted any services and would love for everyone to do a Random Act of Kindness whenever possible.

She is survived by her husband of over 35 years, Ralph Estell; parents Ray Gupton and Raylene Dunn; sister, Mary R. Schreiber; brothers, Ray M. Gupton IV, David A. Gupton, Timothy M. Gupton, and Robert C. Gupton; mother-in-law Laverne Estell; sister-in-law, Monica Brunetto; brother-in-law, Jeff Estell and wife Joanna; numerous nieces, nephews, great nieces, and great nephews.

She was preceded in death by her father-in-law, Ralph Estell, Sr.

Memorials may be made to PAW's for Life or the Christian Food Bank in care of Davis Funeral Home, 2203 West Main, Riverton, WY 82501.

On-line condolences may be made at TheDavisFuneralHome.com

Arrangements under the direction of Davis Funeral Home and Crematory.