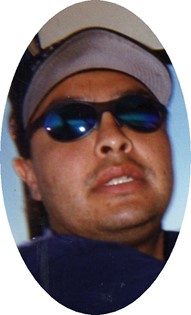 Lonnie Harris
Nov 26, 1965 - May 5, 2022
Lonnie Harris, 56, of Riverton passed away at the Help for Health Hospice Home on Thursday, May 5, 2022. A rosary will be recited at 6:00 pm on Sunday, May 8, 2022, at 10499 Hwy 789, the wake will follow. The funeral service will be held at 10:00 am on Monday, May 9, 2022, at 10449 Hwy 789. Burial will follow at the Harris Cemetery on Plunkett Road.

Lonnie Lynn Harris was born on November 26, 1965 in Lander, WY to Leonard Elson and Priscilla Ann (Williams) Harris. He grew up on the Wind River Reservation and attended schools in Arapahoe. He earned his G.E.D. and attended college for a year. In 2006 he moved to Ponca City, OK then in 2014 he moved to Stillwater, OK, wanting to be home, he moved home in 2021.

Lonnie was baptized into the Catholic faith and practiced it along with the Native American Church, including the sweat lodge.

On January 18, 1987 he married Shawna Jean Rodriguez in Arapahoe. They celebrated 35 years together this last January.

He worked for Fremont County Weed and Pest for 12 years, was a concrete finisher, worked seismograph for Marathon and AMA, and was a truck driver.

Lonnie loved fishing, hunting, camping, all the outdoors, spend time with friends and family and especially enjoyed his time with the grandkids.

He is survived by his mother, Priscilla Cameron: mom, Kathleen Brannan; step-mother, Antoinette Harris; wife, Shawna Rodriguez; sons, Elson Harris and Jalen Wolfelkins Harris; daughters, Michelle Lynne Harris and Tilina Elkins Whiteplume; brothers, Darin Harris, Leonard Elson Harris, Jr., Melvin Arthur, Allen Joe Whietplume Sr., and Gary Arthur; sisters, Rhonda Harris, Stephine Oldman, Jerune Harris, Ambrosia Harris, and Andra Harris; and grandchildren, Antone Boice, Xavier Harris, Shellynne Harris, Ellins Robinson, Eva Robinson, Zeke Robinson, Rian Harris, and Ryle Pewo; and numerous other relatives.

He was preceded in death by his father, Leonard E. Harris, Sr.; grandparents, Raymond and Ambrosia Harris; and numerous other relatives.

On-line condolences maybe made at TheDavisFuneralHome.com

Services under the direction of Davis Funeral Home and Crematory.