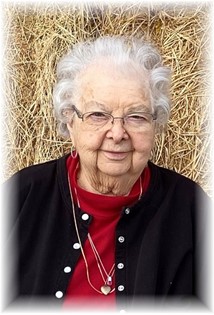 Mary Colleen Miller
Aug 10, 1931 - Jun 15, 2022
Colleen Miller, 90, passed away with family by her side on June 15, 2022. A rosary will be recited at 7:00 pm Friday, June 17, 2022, at Davis Funeral Home. Funeral mass will be 2:00 pm Saturday, June 18, 2022, at St. Margaret's Catholic Church with burial to follow at Mountain View Cemetery.



She was born in Faith, South Dakota on August 10, 1931, to James and Attia O'Hara. She was baptized as an infant into the Catholic faith and attended weekly mass, with her father, at St. Stephen's Mission. Being part of the Catholic Faith remained important to Colleen throughout her life.

She and her oldest child, Sheri, met the love of Colleen's life, Jack Miller, whom she married on September 5, 1951. Through this union three more children were born: Kathi, Jac, and Lorri.

In 1970, Jack and Colleen started Miller Construction. While Colleen took great pride in providing a comfortable home for her family, she also did the book work for Miller Construction for 49 years, until she was 88 years old. She was active in the company in many other ways as well. One week she drove to Casper five times to get parts to keep the equipment operational. She had a keen business mind and really enjoyed making money.

Jack and Colleen took a lot of pride and were very generous with their family, and loved spending time with their children, grandchildren and great-grandchildren at their family cabin. When on snowmobile and four-wheeler rides, Colleen was always the last rider; she was watching over her family to ensure they made it home safely.

Colleen and Jack enjoyed collecting antiques, especially antique cars. She and Jack attended many antique car auctions. One company that they frequently purchased cars from came to refer to them as "Miller Time." Her favorite antique car was a 1919 Ford with a mother-in-law seat. However, her daily drivers were her green GTO and her Maserati. Everyone liked to ride with her in her cool cars and she was seen picking up grandchildren on her 4-wheeler to take them to school.

In her younger years, Colleen was active in her home extension club.



She enjoyed all kinds of handiwork, especially sewing and knitting. She handmade quilts and afghans for her grandchildren at birth, and it is rumored that at least two of those baby quilts are still being used by 40-something year-old granddaughters (although they are a bit worse for wear). Throughout her life, she continued sewing and knitting for her great-grandchildren and great-great-grandchildren.

Tradition was very important to Colleen. She loved hosting family meals, which included her famous spaghetti, chocolate cake with fudge frosting, and of course Friday night Catholic tuna casserole. She also gave all her grandchildren their first baths and drove from home-to-home to capture the first day of school photos.

She is survived by her four children, Sheri and Richard Hinkle, Kathi and Jim McDonald, Jac and Ellen Miller, and Lorri and Dwayne Peterson; 11 Grandchildren, Jim (Amber) Hinkle, Bridget (Mike) Franks, Megan (Rob) Dolcater, Amy (Casey) Day, Jared (Ellen Thompson) Miller, Josh (Desiree) Miller, Attia (Jeremy) Crews, Misti (Travis) Lopez, Dustin (Stephanie) Peterson, Bo (Rachel) Peterson, and Seth (Maria) Peterson; 25 Great-grandchildren, Brock, Halle, and Brody Hinkle, Morgan (Brad) Eliason, Whitlee (Spencer) Fisher, Madyson, Memphis and Hattie Dolcater, Teagan and Kaytreann Day, Eliza and Daphne Miller, Hudsyn Miller, Jack and Frances Crews, Tiana, Sophie, Trai and Kholt Lopez, Kayla, Caitlyn, Liam Peterson, Jett Peterson, Dayton and Kendra Peterson; Four Great-great-grandchildren, Maverick, Ruger, and Laisen Fisher, and Banks Eliason.

She was preceded in death by her husband, Jack Miller; parents, Jimmy and Attia O'Hara; siblings, Celestial Forbis, Terance, and Jimmy O'Hara.

In lieu of flowers, memorials may be made to the St. Stephen's Indian Mission in care of the Davis Funeral Home, 2203 W. Main Street, Riverton, WY 82501.

On-line condolences may be made at TheDavisFuneralHome.com. Services are under the direction of the Davis Funeral Home.