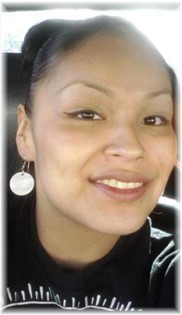 Ashley Addison
Aug 17, 1991 - Aug 24, 2022
Funeral services for Ashley Dean (Dewey) Addison, 31, will be held at 10:00 a.m., Friday, September 2, 2022 at 239 Givens Road, Arapahoe, Wyoming. Interment will follow at Friday Cemetery. A Wake will begin at 7:00 p.m., Thursday, September 1, 2022 at 239 Givens Rd.

Ashley passed away on Wednesday, August 24, 2022 in Riverton, Wyoming.

She was born on August 17, 1991, daughter of Dean Alexander Dewey and Renette Jaqueline White in Riverton, Wyoming. Ashley spent her whole life living on the Wind River Indian Reservation. She attended elementary school at St. Stephens and Wyoming Indian during her junior high and high school years.

Ashley worked as a housekeeper at the Holiday Inn and Wind River Hotel and Casino but was most importantly a mother to her kids.

Mrs. Addison enjoyed participating in sweats, peyote meetings and pow-wows. She also loved horseback riding, long walks, reading books and spending time with her loving family, especially her kids. Her interests also included traveling, meeting new people, making friends and gambling.

Survivors include her husband, Daniel C. Addison; sons, Brandon Jerdell WhiteEagle, Scout Owl Friday, David Charles Addison, Onawa Shay Addison; 2 grandchildren; her parents, Dean Alexander Dewey, Renette Jaqualine White; brothers, Brinden White, Lloyd White, Brett White, Larry Weed, Vince L. White Eagle, Marlin C. MedicineHorse, Kobi Rockroads, Michael Warren, Boniface Ridgley, Bon Ridgley, Ian Armour, Dillon Armour, Kyle Carlson, Derrick Williams, Brian Williams, Jr., Winter Sky Coen, Tynan Bearcomesout, Frank White, Allison Friday, Alan Friday and Alex Friday; sisters, Kayla Seminole, Leola Rose Dewey, Bryaira WhiteEagle, Isabelle Medicine Horse, Baillie White, Hope White, Dani White, Sharmaine Weed, April White, Leandra Armour, Maya Madilla, Paris and London Brown, Halle Carlson, Emma Carlson, Josie and Zoey Carlson, Cami Williams, Lena Warren, Shaylee White, Kristen Washakie, Kaylee White, Amanda White, Peggen (Willie) Frank, and Katie Vargas; grandparents, Hubert Friday, Linda and Howard Hurtado, Nelson (Bonnie) White, Laverne White, Herbert (Pauline) Welsh, Mavis Willow, Marcus Willow, Alvera Willow and Alvina Willow; adopted parents, Vince (Leola) White; aunts, Audra White, Rose Friday, Ramona Morgan, Beverly Hurtado, Sherry Hill, Chris Hill, Holly Underwood, Linda Underwood, Michelle and Bobby Redcap, Marilyn and Ryan Gambler and Marilyn Groesbeck, Roxanne (Dave) Hines, Dr. Aldora WhiteEagle, Rita Ridgley, Requina (Bill) Armour, Nikki White, Sheri (Bill) Carlson, Lisa White, Sara Wilson; uncles, Larry WhiteEagle, Vince and Leola White, Jay Brown and Bo Brown; cousins, Jared and Tara Friday, Shawn and Sacheen Brown, Julie Spoonhunter and LeNessa Morgan; numerous nieces, nephews, cousins and family members of the Friday, Trosper, Thunder, Sage, Goggles and Dodge.

She was preceded in death by her great grandparents, Chester and Effie Friday; grandparents, Corrine and Victor Revere, Jr., Theresa Friday, Estelle and Albert Dodge, Sr., Duane and Vicky Friday, Irene Friday Mountain Sheep, Chester Friday, Jr., Elaine and Frank Hill and Zette Underwood; aunts, Bonnie White, Lynell and Bill Addison, Carleen Hill and Kerry Underwood; uncle, George Groesbeck; brother, Kyle White; sisters, Peanut Armour, Britney Barrera and Irene White; uncle, Michael White and aunt Bonnie White.

On-line condolences may be made at TheDavisFuneralHome.com.

Services under the direction of Davis Funeral Home, Crematory, and Monuments.