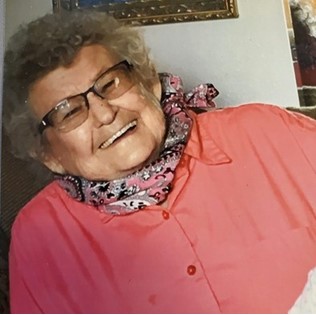 Virginia E. Devish
Mar 24, 1925 - Aug 30, 2022
Virginia Elizabeth Meyer Devish passed away August 30 2022, at Legacy Long Term Care in Gillette, Wyoming. She passed away of natural causes. Services for Virginia will be held at 2:00 pm on Friday, September 23, 2022 at Davis Funeral Home in Riverton, Wyoming with grave side to follow at Mountain View Cemetery, Riverton, Wyoming

Virginia was born in Council Bluffs, Iowa on March 24,1925 to Boward Meyer and Francis (Horn) Meyer. She was raised with siblings, brother, Howard Meyer, and sisters, Pat (Meyer) Bush and Joyce (Meyer) Stultz. The family moved to Morrill, NE. then on to Lyman, NE, then they homesteaded at Childs Spring Flats, where they lived in a railroad box car and a coach. Virginia said it was awfully cold in the winter would freeze water in side during the winter. Virginia went to school in Pavillion, WY from 1935 to 1941 then graduated from Riverton High School in 1942.
She moved to Denver, CO where she attended welding school and worked at Stapelton Airport for Continental Airlines. She worked on B17 Bombers, then on to Oakland, California where she worked at the Alameda Naval Station, next stop Wichita Kansas where she worked on B24's for Boeing, next Dallas, Texas where she started flying lessons. She wanted to join the Wasps and ferry completed planes to where ever they were needed. Her final location was working in the airplane plant in Grand Prairie, Texas. She moved back to Riverton, WY in 1944.
Virginia married Melvin Devish in 1946, they divorced later on. They raised their family of five children, John, Janet, Judy, and Fred on their farm in Missouri Valley and then on their Homestead in Hidden Valley. She lived there until 1980, when she moved into town, Riverton, until September of 2019 when she moved to Primrose Assisted Living.
Virginia loved to paint and was accomplished at doing sculpture. She was still painting up to the last month or two before she passed. Virginia enjoyed her horses, dogs, cats, and, birds as well as flowers, plants and all living things. She always loved a view of the mountains.
Virginia is preceded in death by her parents Howard and Francise Meyer; brother, Howard Meyer; son, John; daughter, Janet; and grandson John.
Virginia is survived by son, Fred (Susan) Devish of Moorcroft, Wyoming; daughter, Judy (Gary) Pederson of Riverton, Wyoming; granddaughters, Christy Cunningham of Laramie, Wyoming, and Darcy (Cory) Carlson of Omaha, NE; grandsons, Donald (Chimene) Devish of Riverton, Wyoming and Casey (Holly Mathews) Devish of Moorcroft, Wyoming; great grandsons Jack and Bennett Carlson of Omaha, NE; and great granddaughter Abrianna Devish of Riverton, Wyoming.
On line condolence may be made at TheDavisFuneralHome.com
Services under the direction of Davis Funeral Home, Crematory, and Monuments