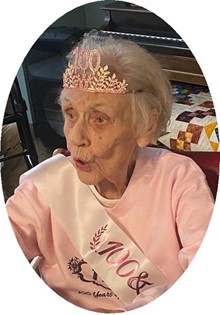 Eleanor (Ellie) Steinberg
Dec 30, 1921 - Sep 23, 2022
Eleanor (Ellie) Steinberg, 100, of Riverton passed away on Friday, September 23, 2022, at Westward Heights in Lander. There will be no local services and she will be laid to rest with her family in Philadelphia.
Eleanor Steinberg was born on December 30, 1921 in Philadelphia, PA to Peter Lux and Julia (Pinnel) Lux. Ellie spent the majority of her life in Philadelphia before coming to Wyoming. She worked as an office manager in the trucking industry.
She loved dancing, her grandchildren and great grandchildren very much. She had a wicked sense of humor and was kind to everyone she met.
Ellie was believed to be the last surviving relative connected to the Band of Brothers through her husband Joe Toye.
She is survived by her sons, Pete (Laurie) Toye, Stephen (Bonnie) Toye; eight grandchildren: Cory, Nick, Katie, Michael, Stephen Jr., Alicia, and Jennifer; three step-grandchildren: Auston, Adyson, and Afton; nine great grandchildren and her sister, Dorothy Brown.
Ellie is preceded in death by husbands, Joe Toye, George Dewees, Richard Steinberg; daughter, Anita Debellis; son, Jonathan Toye; and sister, Arlene Baird.
Arrangements under the direction of Davis Funeral Home.
On-line condolences may be made at TheDavisFuneralHome.com