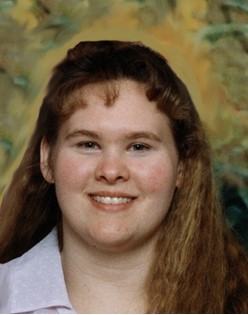 Jessica Lynn Ford Finlayson-Shepard
Dec 5, 1979 - May 9, 2007
Funeral services for Jessica Lynn Ford Finlayson-Shepard of Lander will be at 2 p.m. Wednesday, May 16, at the Riverton Christian Center. Pastor Paul Hughes will officiate.

There will be a viewing from 5 to 7 p.m. Tuesday, May 15, at the Davis Funeral Home in Riverton.

Mrs. Finlayson-Shepard died in a one-vehicle accident north of Green River Wednesday night, May 9, 2007. She was 27 years old.

Jessica Lynn Finlayson was born Dec. 5, 1979, in Riverton, the daughter of Clinton D. Finlayson and Sharon L. (Johnson) Finlayson. She grew up in the Pavillion area, attended Wind River Elementary School, and was graduated from Spring Creek (Nevada) High School in 1998. She attended college at Central Wyoming College, Casper College, and in Elko, Nev.

She had moved to Elko in 1989, lived in Spokane, Wash., and most recently had been living in Lander, working as a traveling surgical technician.

She married Denny L. Shepard on June 15, 2000, in Spokane, Wash.

She was employed as a surgical technician through the Lander Valley Medical Center.

Mrs. Finlayson-Shepard attended the Riverton Christian Center.

Her family said she loved being a mother, taking care of her children, riding four-wheelers and go-carts, camping, baking, cooking, and surprising others with gifts

They said she enjoyed her work as a surgical technician in trauma where she was able to assist in saving lives.

Survivors include her husband, Denny L. Shepard of Spring Creek, Nev.; daughters, Chelsea and Odessa; parents, Clinton "Herb" and Sharon Finlayson of Elko, Nev.; grandparents, Jerry and Viola Johnson of Riverton and Mary Jane Finlayson of Pavillion; brothers, Scott Finlayson and his wife Gwen of Elko, Ken Finlayson and his wife DeLynn of Kent, Wash., and Clint Finlayson and his wife Kathy of Riverton; sisters, Darla Romero, Sheila Gurr and husband Scott, all of Elko, and Angela Bennett and husband Dan of Riverton; several nieces, nephews, aunts, uncles, great aunts, great uncles, cousins; close friends, Charlotte Torres and Allison Paysen.

She was preceded in death by a grandfather Duncan "D.G." Finlayson, and an uncle, Danny Johnson.

Memorials in her name may be made through the Davis Funeral Home, 2203 West Main, Riverton WY 82501.

On-line obituaries are available and condolences for the family may be made at: thedavisfuneralhome.com

Services are under the direction of the Davis Funeral Home of Riverton.