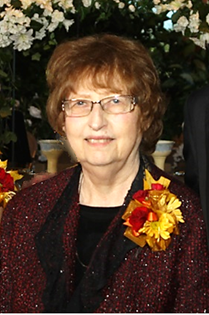 Nadine Weber
Nov 16, 1939 - Oct 26, 2022
Nadine Katherine Weber passed away peacefully on Wednesday, October 26th, 2022 at (Banner) Wyoming Medical Center with her family by her side, after a courageous fight against declining health conditions.
Nadine was born on November 16th, 1939, in Lingle, Wyoming, the only child of Alexander (Alex) and Katherine Knoll. At age seven, Nadine's family moved to Morton, Wyoming, where Nadine loved nothing more throughout her childhood than to ride her horse. Nadine graduated from Morton High School in 1957, subsequently attending Barnes Business College in Denver, Colorado, while working as a nanny. She returned to the Riverton, Wyoming area to work as a secretary for Westwood Trucking Company. Nadine met Alfred Weber through a mutual friend shortly after her return to Riverton; they later married at St. Paul's Church of Christ on December 9th, 1962. Alfred and Nadine raised two children, Roger and Karla, on their farm in the Paradise and Missouri Valley area, where Nadine excelled at the roll of wife, mother, and, later, grandmother. After forty-four years on the family farm, Alfred retired from farming in 2006. Alfred, Nadine, and Roger then moved to Skyline Drive, west of Riverton, where they enjoyed making new friends in the neighborhood.
Nadine had many passions in life, but her first love was her family. She was known among her family and friends to add unique style and flair to everything she did. Those close to her recall her generous nature, faithfully remembering each friend and family member with carefully selected cards and gifts.
Her second love was music; Nadine excelled at the trumpet and piano from early childhood. She served her Lord by playing the organ at both St. Paul's Church of Christ, and St. John Lutheran Church, for a timespan of over forty-three years; she was known to be both a reliable and a committed organist. In her more recent years, she played trumpet in both the Central Wyoming College Band and Hot Notes Cool Nights Summer Band. Throughout Nadine's life, she enjoyed playing with family members as well, first with her father, and later with her children and grandchildren in impromptu ensembles. Nadine's passion for music continues to enrich many local communities through her descendants.
Additionally, Nadine was known to love animals, especially cats. Nadine always welcomed stray animals into her life, rescuing pets from the shelters and from the roadside, being remembered as never turning a blind eye to a starving creature. Nadine was a living example and testimony to others regarding the proper care, compassion, and stewardship of a part of God's creation; His animals. An enthusiastic traveler, Nadine took every opportunity to take a trip. In addition to numerous road trips and excursions across the country, she also greatly enjoyed smaller camping and fishing getaways to the Wind River Mountain Range with her family. Finally, Nadine loved to play scrabble. A social person who loved parties and entertaining, she often welcomed friends and family over to her home to partake in scrabble tournaments.
Nadine is preceded in death by her parents, Alexander (Alex) and Katherine Knoll, and by her husband of fifty years, Alfred Adam Weber. Nadine is survived by her children; son Roger Weber, daughter Karla Forbis and husband Dan; her grandchildren; granddaughter Sabrina Hamner and husband Alan, grandson Brent Forbis and wife Cynthia; many beloved family members within the extended Weber family; and her cherished friend of seventy-five years, Joyce Hagen.
The family would like to thank everybody who has taken the time to visit, encourage, and be present with Nadine as she faced health challenges in her later years. Funeral services will be held at Davis Funeral Home on Friday, November 4th, 2022 at 1:30 p.m. to celebrate Nadine's life, and offer praise and thanksgiving to the One who is truly the Resurrection and the Life, Jesus Christ.