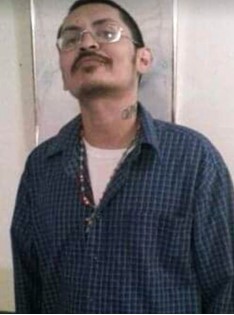 Edward "Eddie" Brown
Apr 28, 1983 - Feb 27, 2023
Funeral services for Edward Brown will be held at 10:00 a.m., Saturday, March 11, 2023 at St. Stephen's Catholic Church. Interment will follow at the Arapaho Catholic Cemetery. A Rosary will be recited at 7:00 p.m., Friday, March 10th at Eagle Hall with a wake to follow.
Edward "Eddie" Lee Brown, 39, Deming resident passed away Monday, February 27, 2023 at his residence in New Mexico.
He attended Jefferson Elementary in Riverton and elementary grade school in Las Cruses, New Mexico. He graduated high school from Deming High School.
Eddie was baptized into the Catholic faith and practiced the Traditional Northern Arapaho Ways. He attended church and Rabbit Lodge.
He worked at the Wind River Casino, Wendys and was a construction worker.
Eddie enjoyed fishing, hunting, taking care of his animals, raising roosters, listening to music, and reading a good book at times. He really liked to built and paint low rider cars.
He is survived by his mother, Lorelei Maria Brown; father, Rogelio Ramirez; brothers, Rogelio Alonso Baeza, Brandon Wilson Brown, Dustin Maldonado, Baltazar Maldonado Alex Maldonado, Angelo Maldonado, Robert Oldman, and Rueben Oldman; sisters, Raylinda J. Brown, Eulalia Raina Meraz, Frantasia Maldonado, Carlie Jo Beydler, Riah Shakespeare, and Krystal Posey; aunts, Eleanore Maldonado, Tena Brown, Vanessa Posey, Iva Posey, Deanne Wanstall, Roshelle Correa, and Brooke Eagle; uncles, Lynn Brown, Sr., Rudy Norse, Sr., Rapheal Norse, Kevin Brown, Ervin Brown Jr., and Doanld Oldman; grandparents, Sadie and Duane Bell, Emma and Nelson Moss, Kathryn Eagle, Mervin Black and Lupe Baeza; and numerous cousins, nieces, and nephews.
He was preceded in death by his uncles, Edward W Brown, Jr. and Hiram Brown; aunts, Marietta Calderon, Amelia Brown, Judy Brown, Brenda Brown, and Roberta Norse Oldman; grandparents, Edward and Nora Brown, Ervin and Laverne Brown, Lyle and Sara Black, and Gilbert Baeza.
On-line condolences may be made at TheDavisFuneralHome.com
Services under the direction of Davis Funeral Home, Crematory, and Monuments.