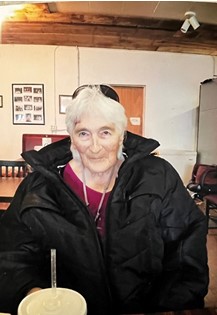 Elaine Wilson
Dec 14, 1938 - Apr 1, 2023
We regretfully announce the passing of Elaine Wilson of Riverton on April 1, 2023. Elaine was surrounded by her family and passed away peacefully.
A Viewing will be held from 6:00 p.m. until 8:00 p.m., Wednesday, April 5, 2023 at Davis Funeral Home. Funeral services for Elaine Wilson, 84, will be held at 2:00 p.m., Thursday, April 6, 2023 at Davis Funeral Home. Interment will follow at Mountain View Cemetery. Following the interment, a Celebration of Life for Elaine will be held at the Chandelle Center, 3445 Chandelle Blvd, a lunch will be served.
Elaine Wilson was born on December 14, 1938, daughter of Melvin J. and Alta (Hanway) Jeffery in Fort Washakie, Wyoming. Elaine spent her life in Fremont County.
In October of 1967 Elaine married her soul mate, Zane Wilson in Thermopolis, WY. They were married for over 35 years before Zane passed in 2003. Together they raised their family and operated their ranch.
Elaine enjoyed crafting and doing Native American beadwork. She loved helping others and rescuing animals.
Our mother, Elaine was one of the strongest, caring women to ever walk this earth. She was a wonderful, loving mother who gave her all to her family, and we were blessed to have her.
She is survived by daughters, Marlene Manning-Fleetham, Nancy Manning-Hanson and her husband, Ben, and Carol Wilson-Lee and her husband, Dan; grandchildren, Jason Fleetham, Seth Fleetham, Zane (Kaylee) Humphries, Becky (Brian) Brower, Jess (Scotty) Gordon, Alta (Sam) Hanson, Brandy (William) Hanson, Hunter Lee, and Skyler Lee; and great grandchildren, Lyric, Breanna, Aspen, Brady, Winter, Fred, Maizie, Emerie, and Riley.
She was preceded in death by her parents; soul mate and husband, Zane Wilson; former husband, Robert Manning; infant son; siblings, Eugene Meyers, Elmer Jeffery, Charles Jeffery, Leona Jeffery-Hayden, Adelis Jeffery-Matelko; and Geraldine Jeffery-Pendergrass.
Memorials may be sent to Paws for Life or Angel Fund with Stock Doc in care of Davis Funeral Home, 2203 West Main Street, Riverton, WY 82501.
On-line condolence may be made at TheDavisFuneralHome.com
Service under the direction of Davis Funeral Home, Crematory, and Monuments.