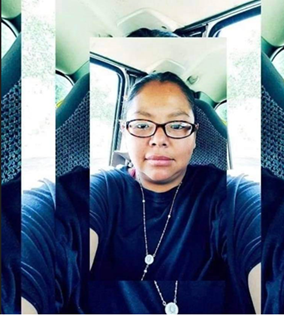 Robin Whiteplume
Jul 8, 1987 - Mar 30, 2023
Robin Whiteplume, 35, passed away in Berwyn, Illinois on Thursday, March 30, 2023. A rosary will be recited at 6:00 pm on Monday, April 10, 2023, at Davis Funeral Home. The funeral service will be at 10:00 am on Tuesday, April 11, 2023, at St. Jospeh's Catholic Church with burial to follow at Armour Cemetery in Ethete.
Robin Dawn Whiteplume was born in Pine Ridge, South Dakota on July 8, 1987.
She was adopted by Douglas and Winona Whiteplume and grew up in Arapahoe, WY. She attended schools at Arapahoe and Wyoming Indian. She also briefly attended Clearfield Job Corp in Clearfield, Utah.
Robin loved spending time with her children, family and her grandparents Douglas and Winona. She was a homemaker and enjoyed traveling to different places with her children.
Robin is survived by her daughters, Roberta Bobbi Adeline Whiteplume, Samantha Blackelk, Nellie and Ariana Whiteplume; sons, Douglas and Strong Tree Whiteplume; uncle Vern Spoonhunter, Sr.; aunts, Roberta and Dora Spoonhunter and Bernadette Spoonhunter; brothers, Robert Joe "Bobby", Vern Jr., Chief Joseph, James and Justin Spoonhunter.,John Carpenter, Edwin Thomas Armour and Robert Bravehawk; sisters, Chelsea, Kylee and Lori Spoonhunter; nephew, Luke Spoonhunter; and all her brothers and sisters from the Jumping Eagle, Two Bulls and Chase Alone families in South Dakota.
Robin is preceded in death by a son, Nathaniel Whiteplume; sisters, Danielle Romero, Jordan Wahtomy and Marisa Chenoa Spoonhunter; mother, Elizabeth Chase Alone; grandparents, Douglas and Winona Whiteplume, Robert Armour, Jr., Linda Armour and Mary Chase Alone; great grandparents, Robert Sr.; Adeline Armour and Virginia White Antelope.
On-line condolences may be made at TheDavisFuneralHome.com
Services under the direction of Davis Funeral Home, Crematory, and Monuments.