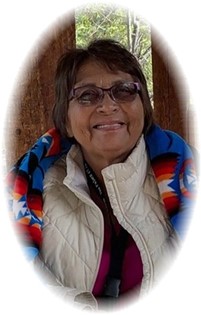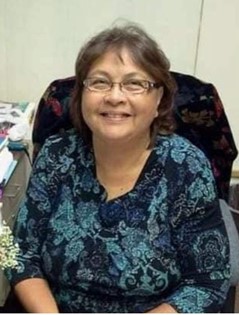 Sarah Willow
Oct 1, 1953 - Apr 12, 2023
Sarah Willow, 69, of Ethete, Wyoming passed away on Wednesday, April 12, 2023, at St. Vincent's Hospital in Billings, Montana. A rosary will be recited at 7:00 pm on Monday, April 17, 2023, at Blue Sky Hall followed by the wake at her residence, 577 Blue Sky Highway. The funeral service will be held at 10:00 am on Tuesday, April 18, 2023, at St. Stephen's Catholic Church. Burial will follow at Blackburn Cemetery.
Sarah Ann Blackburn was born on October 1, 1953 in Casper, Wyoming to Lillian Blackburn and Herman Hanway. She was given her Indian name of "Sundance Peppermint Tea." She was raised by family and foster parents and attended school in St. Stephens, Arapaho, Lamedeer, Montana. and St. Labre, Montana. She received her G.E.D. in Spokane, Washington. She went to Kinman, Washington where she earned her Business Degree.
When Sarah returned to the Wind River Reservation, she worked at Indian Health Services for over twenty years before retiring. After retirement she worked for the Northern Arapaho Tribe in various departments, the casino, and White Buffalo Recovery.
On September 30, 1977 she married Norman Willow in Riverton, Wyoming. They were married for over 40 years before Norman passed in 2018.
Sarah was raised in The Church of Jesus Christ Latter-day Saints with her foster parents, attended the Catholic Church with her husband, and participated in traditional ceremonies.
Sarah was well known for taking care of kids. Norman and Sarah enjoyed going to the casino, traveling to Pow-Wows, attending traditional ceremonies, and visiting family out of state.
She is survived by her adopted parents, Ron and Beatrice Haukaas; sons, Louis (Kirsten) Whiteplume and Norman P. (Emery'l) Willow, Jr.; daughter, DesiRae Willow; brother, Ronnie Kane; sisters, Melody (John) St. Clair, Melisa (Arturo) Carrillo, Sandra (Jack) Little Whiteman, Rebecca Hanway, Bernadette Hanway, Arlen Sentillantis, and Toni Not Afraid; uncles, William (Nora) C'Hair, William Samuel C'Hair, Jr., Daniel C'Hair, Raymond C'Hair, Kenny C'Hair, David C'Hair Wayne Norse, Jr., Dominic Norse, Matthew Norse and Byron Yellow Bear; aunts, Mary Ann Duran, Matilda C'Hair, Julie Whiteman, Rose C'Hair, Catherine Underwood, June Norse, Elizabeth Four Bear, Eloise Yellow Bear, and Lorena Yellow Bear; nephews, Arturo Carrillo, Jr., Xavier Carillo, Valente Carrillo, Nicolas Blackburn, and Jonathon Blackburn; nieces, Shelly (Robert) Anderson, Loni Warren, Lily (Jeryd) St. Clair; Marie Kane, and Hannah Blackburn; grandchildren, Kale Ferris, Malcolm Whiteplume, Shawn Whiteplume, Jacob LeBeau, Noah Red Willow, Ava Red Willow, Kimora Wallowing Bull, Kekoa Wallowing Bull, Kenzo Wallowing Bull, Kenneth J. Wallowing Bull, III, Onii May, John R. St. Clair-Leonard and Tianah Farris; great grandchildren, Kiara Whiteplume, Kaden Moss, Darius Whiteplume, Kobe Whiteplume, Madison Whiteplume, Mayson Whiteplume, Kahleah Whiteplume, Keleikey Farris, Kelyella Farris; and many foster children along the way.
She was preceded in death by her husband, Norman P. Willow, Sr.; mother, Lillian Kane; father, Herman Hanway; daughter, Kellie N. Willow; son, Elton Whiteplume; sister, Karen Sue; aunt, Margaret Blackburn; uncles, James (Ruby) Blackburn and Edward (Shirley) Blackburn; sister, Miranda Hanway; grandmother, Mary Blackburn; great grandmother, Sarah Shavehead; foster parents, The Minters; and members of the families of Blackburn, Brown, C'Hair, Willow, Hanway, and Lujan.
On-line condolences may be made at TheDavisFuneralHome.com
Services under the direction of Davis Funeral Home, Crematory, and Monuments.