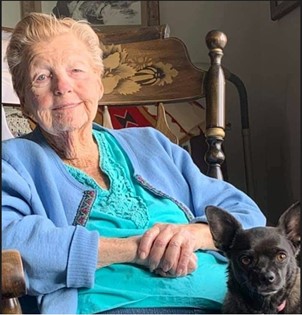 Cecilia Kasper
Mar 20, 1930 - Apr 17, 2023
Cecilia Kasper, 93, of Riverton, Wyoming passed away at home surrounded by her family on Monday, April 17, 2023. A rosary will be recited at 7:00 pm on Friday, April 21, 2023, at Davis Funeral Home. The Memorial Mass service will be 2:00 pm Saturday, April 22, 2023, at St. Stephen's Catholic Church. Inurnment will follow at Mountain View Cemetery.
Cecilia Mae Miles was born in Casper, Wyoming on March 20, 1930 to James Noah and Nellie (Kerr) Miles. As a young girl, her Aunt Maxine gave her the nickname "Bobby." She grew up at the 43 Ranch in Highland, Wyoming and graduated with the class of 1949 from Natrona County High School in Casper, Wyoming. She lived in Casper before moving to Alaska where she lived for 19 years and finally to Riverton making it her home for the last 46 years.
Cecilia was baptized in to the Catholic faith and was a member of St. Stephen's Catholic Church. She was a very faithful woman.
On June 27, 1953 she married the love of her life, Thomas Francis Kasper, at the Holy Rosary Catholic Church in Lander, Wyoming. She was a full-time homemaker and mother to four children. She and Thomas celebrated over 69 years of marriage.
She was a member of TOPS in Casper, Alaska, and Riverton.
Cecilia's passion was her family, taking care of her husband, supporting her children, grandchildren, and great grandchildren. She enjoyed crafts, crocheting, and puzzles.
She is survived by her husband, Thomas Kasper; sons, James Kasper and wife, Kelley, of Riverton and Timothy Kasper and wife, Kim, of Atchison, Kansas; daughters, N. Susan Kasper and fiancé, Chris Wright, of Riverton and Anna Kasper-Wolfe and husband, Ed, of Riverton; grandchildren, Bo Kasper and wife, Christina, and Kimberly Appelgate; step granddaughters, Tami, Jeni, Amy; great grandchildren, Landon, Macey, Madison, Kaitlyn, Serenity, and Sterling; brother-in-law, John Kasper and wife, Nadine, of Riverton; and sister-in-law, Patricia Cheney of Casper, Wyoming.
She was preceded in death by her parents, James and Nelli Miles; and brother, James Miles.
In lieu of flowers the family ask donations be made to St. Jude Childrens' Hospital, St. Joseph's Children Home in Torrington or St. Stephen's Catholic Church, in care of Davis Funeral Home 2203 West Main Street, Riverton, Wyoming 82501.
On-line condolences at TheDavisFuneralHome.com
Services under the direction of Davis Funeral Home, Crematory, and Monuments.