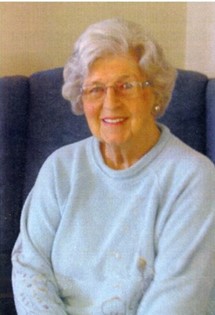 Phyllis Moorman
Jul 15, 1922 - May 3, 2023
No services will be held for Phyllis Jean Moorman, 100, who passed away on Wednesday, May 3, 2023 at Westward Heights Care Center in Lander, Wyoming. Cremation has taken place.
Phyllis was born on July 15, 1922, daughter of Paul A. and Inez O. (Tucker) Rader in Waldron, Kansas. She grew up in Blackwell, Oklahoma as the second of four children. After attending college in Oklahoma, she moved to San Francisco, California and worked first as a bookkeeper for Sutra Stock Exchange. She then went into civil service and worked as a bookkeeper for Oakland Navy Supply.
In the early 1940's she met Lester Moorman and married him February 4, 1943. They had three sons – Craig, Douglas and Keith. The U.S. Steel Company brought her family to Lander in 1958 where her husband became the General Superintendent of the Atlantic Iron Ore Mine. Phyllis later moved back to Oklahoma City. Her husband then became ill and this brought her back to Lander for five years. When he passed away in 1989, she returned to Oklahoma City to resume her position with Rothchild's until her retirement in 1992. Family ties brought her back to Lander.
Her longest community volunteer commitment was to crippled children and lasted 38 years. She received a service pin from the Red Cross recognizing 35 years of service as a Gray Lady of the Red Cross. One community contribution was the establishment of a salon for the residents at the Wyoming State Training School. Her leadership inspired local salons to donate to this project.
Friends and family recognize her innate aptitude with flowers and eye for decorating and enjoyed playing bridge.
Survivors include her son, Craig and his wife Sandy of Lander, WY; grandchildren, great grandchildren and great, great grandchildren.
She was preceded in death by her parents, husband and two sons, Douglas and Keith.
On-line obituaries are available and condolences for the family may be made at: TheDavisFuneralHome.com
Arrangements are under the direction of the Davis Funeral Home of Riverton.