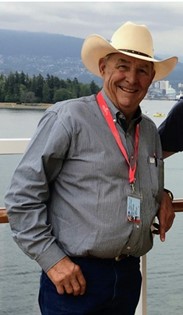 Kent Christensen
Jan 30, 1948 - May 3, 2023
Funeral services for Kent Christensen, 75, will be held Wednesday, May 10, 2023, at 2:00 p.m., at Davis Funeral Home. Interment will follow at Mountain View Cemetery. Memorial contributions may be made to Friends of Fremont County Fair in care of Davis Funeral Home, 2203 West Main St., Riverton, WY 82501.
Mr. Christensen passed away on Wednesday, May 3, 2023, at the Help for Health Hospice Home in Riverton, Wyoming.
Kent Alden Christensen was born on January 30, 1948, son of Paul A. and Elisabeth M. (Monrad) Christensen in Brush, Colorado. Kent moved to Wyoming with his family when he was one and grew up on the land homesteaded by his father near Midvale. Kent graduated from Pavillion High School in 1966 and attended Casper College, Colorado State University and the University of Wyoming.
Kent married Cheri Bell in 1971 in Denver, Colorado, and the couple returned to Riverton where Kent began teaching agriculture at Riverton High School and Central Wyoming College. The couple had two children, Lennard and Kati, and four grandchildren, Cade (Anderson), Kieren, Cord and Lacy (Anderson).
Aside from his family, Kent's biggest love was farming, and he was proud to continue farming the land his family homesteaded in the 1940s. He was a dedicated volunteer to many organizations, including 4-H and FFA, where he served as superintendent for junior shows at Wyoming State Fair and National Western Stock Show. He served as a member of the Fremont County Fair Junior Livestock Sale Committee and the Wind River School Board for many years.
Kent enjoyed rodeo, both as a participant and fan. He was a member of the Professional Rodeo Cowboys Association, the USTRC and Wrangler Team Roping Championships for many years. Some of his most fond memories were of his time rodeoing and his annual trips to the National Finals Rodeo.
When he had time away from the farm, Kent also loved spending time with his grandkids or watching them at sporting events and livestock shows, as well as fishing, and hunting.
Survivors include his loving wife, Cheri Christensen of Riverton, WY; son, Lennard (Kristi) Christensen of Fort Worth, TX; daughter, Kati (Boyd) Anderson of Riverton, WY; grandchildren, Cade Anderson, Lacy Anderson, Kieren Christensen and Cord Christensen; brother, Dennis (Heather) Christensen of Riverton, WY; sister, Gay Lynne (Rich) Hobson of Riverton, WY; brother-in-law, Hal (Mary) Bell of Cody, WY; and many nieces, nephews, great nieces and great nephews.
He was preceded in death by his parents, Paul and Elisabeth Christensen; parents-in-law, Omar and Louise Bell; and brother-in-law, Roger Hill.
On-line obituaries are available and condolences for the family may be made at: TheDavisFuneralHome.com
Services are under the direction of the Davis Funeral Home of Riverton.