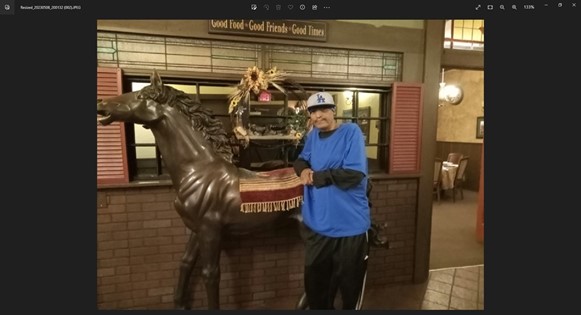 Raymond Antelope, Jr.
Oct 3, 1986 - May 11, 2023
Raymond Antelope, Jr., 36, of St. Stephen's, Wyoming passed away in Greeley, Colorado on Thursday, May 11, 2023. A Rosary will be recited at 7:00 p.m., Monday, 22, 2023 at the St. Stephen's Catholic Church followed by the wake at the home of Dan Black, Jr., 1556 Bitterroot Drive Beaver Creek Housing. The funeral service will be at 10:00 a.m., Tuesday, May 23, 2023 at St. Stephen's Catholic Church with burial following at the Arapaho Catholic Cemetery.
Raymond Antelope, Jr. was born on October 3, 1986 in Riverton, Wyoming to Raymond Antelope, Sr. and Felicia Bearing. He grew up on the Wind River Reservation where he attended school. He lived a short time in Montana, where he was a prep cook.
Raymond was baptized into the Catholic faith. He also participated in traditional sweats.
He liked to cook, take car rides, listening to music, fishing, enjoyed drawing, and was an avid NFL Panther's fan. Above all, he loved spending time with his family, especially his nieces and nephews.
Survivors include his mother, Felicia Bearing; adopted mother, Doreene Whiting; companion, Nancy Grant; mother-in-law, Florine Hutchinson; daughters, Carmalitta Atnelope, Hannah Magnon, and Amanda Brown; brothers, Dennison Antelope, Darwin Spoonhunter, Dan Jr., Sorrel, Dennis, Eli Black, Anthony Jr. and Tyson Littleshield, Dennis Jr., Richard, Nicholas C'Bearing, Brent, Dudley Jr., Steven Redshade C'Bearing, Michael Primeaux, William, Marshall, John, Joshua, Leslie FoolBull Simiga, Wesley Antelope Jr., Luke Sanchaz, Rick Willow, Lee, Mick Spoonhunter, Horace SunRhodes, Willard Piper, Gary Antelope, Shane Brown, Doug Brown, Deno and Ace Rowan; sisters, Rachel and Rosetta Antleope, Lisa Hutch, Danielle Fawnna Black, Misty Dawn Atene, Rose Littleshield, Toni Zavala, Nichole Bearing, Jessie Buffalo Meat, Michelle and Marlene Lang; Deni Bearing, Bernadette C'Bearing, Brishandre Bearing, Darlene Spoonhunter, Shelia Miller, Theresa C'Hair, Molly Trumbull, Irene Sun Rhodes, Lechelle Spoonhunter, Lesley FoolBull, Julia, Eugenia, Carolyn C'Bearing, Tova Miller, and Akasha C'Bearing; aunts, Denise Bearing, Zena Regan, Charla Strickland, Glynnes Bearing, Cynthia Bearing, Julie Bearing, Ginger Potter, Dawn Spoonhunter, Janis Willow, Vicky Moss, Franny Willow, Lynelle Shakespear, Geraldine Felter, Antonia Lujan, Charlie Bearing, Etheleen Potter Dee Brown, and Inez Brown; uncles, Dennis C'Bearing, Sr., Benson C'Bearing, Sr., Eugene C'Bearing, Mick Spoonhunter, CJ Potter, Larry Makeshine, Wsley Antelope, Sr., Jerry Antelope Sr., Mitchell Whiteman, Tracy Wagon, Robby Harris, Billy FightingBear, Danny C'Bearing, Robert C'Bearing, Al C'Bearing, Jay and Ray Strickland, Harlen Whiteman, Freeman Blackburn, Don Brown, Dan Black, Sr., Russell Big Medicine, Lloyd Littleshield, and Claude Duran; nieces, Menyan Dresser, Laura Dresser, Dallas Dresser, Singing Rayne Cheppewa, Jelynn Duran, Lalaiya Antelope, and Mercedez Antelope; nephews, JoFelix Antelope, Chili'O Antelope, Raydan Antlope, Blazen Cane Antelope, JayRo White Antelope, Shayden White Antelope, and Andrew Bearing; grandpa's, Rupert Goggles, John Goggles, Owen Goggles, and Vincent Blake; grandma's, Ruth Big Lake, Susan Brown, Mary Jane Whiteman, Julia Whiteman, Mona Whiteman, and Merle Big Medicine; paternal brothers, Jerry Antelope, Jr., Donovan Antelope, Franklin Antelope, III, Ashton WhiteAntelope, Wesley Antelope, Jr., Dane Antelope, Rusty Perry, Steven Antelope, Taylor Antelope, Jaylen Antelope, Robert Antelope, Jonathan Antelope, Dana Antelope, Je., Leland FightingBear, Homer FightingBear, Jr., Irvin FightingBear, Ethan FightingBear, Dakotah FightingBear, Shawn Limpy, Darryn Davis, Winslow Fletcher, William Fletcher, Steven Willow, Herman Moss, III, Jason Moss, and Thomas Antelope, paternal sisters, Jerilyn Antelope, Kristen Antelope, Katelynn Antelope, Morgan Antelope, Lavren Antelope, Jada Antelope, Charmame Tolee, Tara Foster, Denise Antelope, Eileen Antelope, Shanell Shamblen, Elizabeth Pine, Kelli Davis, Johnny Big Medicine, Jean Fletcher, Tonya Moss, Crystal Moss, Kimberly Moss, Adrian Moss, Agnes Moss, Tashena Jealousofhim, and Telana Jealousofhim; paternal uncles, Franklin Antelope, Jr., Rodney Willow, Rueben Willow, Archie Big Medicine, Jr., Hiram Big Medicine, Loren Antelope, Darren Antelope, and Wapato Washington; and paternal aunts, Mary FighitngBear, Alfreda Antelope, Kay Davis, Wilma Big Medicine, Janis Moss, Vickie Moss, Frances Blackbear and Teresa Bell; and the families of Potter, Goggles, Whiteman, Warren, Weed, Friday, SunRhodes, Trumbull, Spoonhunter, C'Bearing, Jenkins, and White Antelope.
He was preceded in death by Raymond Antelope, Sr., Chili'O Antelope, Dennis and Rose Bearing, Gloriretta Antelope, Dan Brown, Chili'O and Mary Bearing, Ralph and Mary White Antelope, Benson Bearing, Jr., Brian Bearing, John Dennis Bearing, Josh Bearing, Johnny Whiteman, Braedan Black, Caitlyn C'Bearing, Dudlee Wagon, Theo Bearing, Eugenia Bearing, Caroline Bearing, Dudley C'Bearing, Anthony "Big Tony" Littleshield, Sr., Llyod Brown, Laureen Brown Case, Dominic Fighting Bear, Shane Limpy, Roberta Smith, Roger Smith, Ernest Big Medicine, Ruby Killsnee, David Willow, Wesley Willow, Sr., Loretta Pine, Terra Bell, Dana Antelope, Sr., Deanna Antelope, Michelle Antelope, Derrald Antelope, James Antelope, Thomas Antelope, Brenda Antelope, Jolene Antelope, Connie Big Medicine-Oldman, and Horace Big Medicne;
Our sincere apologies if we forgot any family.
On-line condolences may be made at TheDavisFuneralHome.com
Services are under the direction of Davis Funeral Home, Crematory, and Monuments.