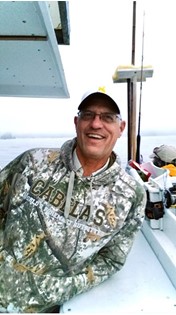 Matthew "Matt" Conilogue
Jul 18, 1956 - May 26, 2023
On May 26th, 2023 the world lost a special man, Matthew Dale Conilogue of Riverton, Wyoming. He was born in Cheyenne, Wyoming on July 18, 1956 to Eldon and Norma Conilogue and passed away at the age of 66 of colon cancer.
Funeral services will be 10:00 a.m., Friday, June 2, 2023 at Trinity Lutheran Church, 419 E. Park Ave., Riverton, WY. Burial will follow at Mountain View Cemetery. A viewing will precede the service at 9:00 a.m. at the church.
A reception will follow all the services at the Reach Foundation, 622 N. 8th West Street in Riverton.
Matt spent his early years in Cheyenne and later moved with his family to Lander WY. He graduated from Lander Valley High School, spent some time working in Granbury, Texas, and attended Central Wyoming College before entering the workforce with UPS. For 38 years he delivered, not only packages, but friendship to the customers on his route.
On February 29th, 1980 he married Susan "Susie" Tucker they went on to have three loving children. Matt was active in his church and volunteered on the school board for Trinity Lutheran School.
Matt loved the outdoors and was an avid hunter and fisherman. He was always one to be strong and dependable, loving and caring and he cast a large shadow to follow. He loved his family, cherished his grandkids, treasured his friendships and lived a full life. He passed away with his family at his side and Jesus waiting at the Heavenly gates.
He is survived by his wife Susie of 43 years; his three children, Amron and (Sean) Stevens, Adam and (Dana) Conilogue, Jacob and (Colleen) Conilogue; eight grandchildren: Tucker, Eliana, Brennen, Kinsey, Bridger, Coen, Vivian, Jonah; sisters, Diane Gray and Rhea Galvan; mother-in-law, Jan Tucker; brother and sister-in-law, Randy and Susan Tucker; their children Brian and Staci; and many nieces and nephews and friends.
He was preceded in death by his father and mother; father-in-law; Luther Tucker; and his brother from another mother, Val Galvan.
In lieu of flowers please donate to the Conilogue family in remembrance of Matthew; a memorial will be set up at a later date, in care of Davis Funeral Home, 2203 W. Main Street, Riverton, WY 82501.
On-line condolences may be made at TheDavisFuneralHome.com
Services are under the direction of Davis Funeral Home, Crematory, and Monuments.