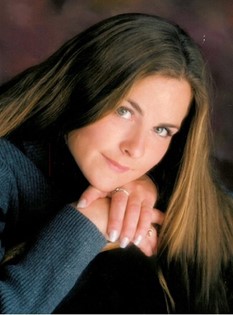 Kristi Shayne Friday
Mar 7, 1985 - May 31, 2023
After a thirteen year hard fought battle with brain cancer, on May 31, 2023, Kristi Shayne Friday was set free and went home to be with her Lord and Savior.
Shayne was born on March 7, 1985, in Lander, Wyoming to Joseph E. Lacy III and Kathy Nauman. She attended schools in Lander graduating from Lander Valley High School. She loved the game of softball and played it through her youth. She also ran cross country track and was a member of 4-H and FFA. She loved animals of all kinds and had a special touch with them. She even brought many wild animals home with her, but none of us ever quite knew how. Her mother suggested it was because she didn't bathe enough, so the critters didn't realize she was actually human.
She developed her love for cattle and ranching from her longtime neighbor and role model Dick Ellis, who patiently let her tag along with him through his barns. Not sure you knew this Dick, but those weren't your cows they were hers! Oh She had the ability to love everyone unconditionally, and that led to her having many friends all of whom shaped her life one way or another. She prayed for all of them as her way of saying "thank you" for being such a wonderful part of her life. Those many childhood friends that spent hours riding horses, swimming in the river, and tromping through the woods all had to be pretty tough to keep up with Shayne. Michael and Missy you were the toughest and the Boodleman family was her second family; always there no matter what!
She met the love of her life, Joey Duane Friday, in high school, and they married April 17th, 2005. He was a loyal, caring, and gentle companion who never left her side through all of the trials she so patiently and courageously endured. Even after the cancer took her ability to speak and show emotion, her deep love for Joey would not be silenced as her eyes would light up and stay fixed on him whenever he was near her.
Shayne and Joey were blessed with three beautiful daughters. Annaliesa Marie, Rebekah Lynn, and Josie Dawn Friday. They were her pride and joy. She loved being their mom and watching them grow into the beautiful young ladies they are today. She also loved being a part of all the crazy adventures and predicaments they seemed to get into. Most of all, she loved watching them develop a love for the Lord and seeing them walking with Him each day.
She took great pride in her husband's culture being given her Indian name; "Seiisei" Woman willing to serve; by her grandmother-in-law Bernadine Goggles Friday along with learning the language and other customs.
She dearly loved her in-laws Sanford and Donna Friday and was always grateful that they welcomed a scrawny crazy little girl into their family.
yeah, she also developed and used her horse-trading skills on you too!
In 1995 she welcomed the dad she dreamed of having, Jeff Nauman. He was there from the beginning as a partner in crime and eventually became her favorite caretaker as she wouldn't let anyone else give her medication or feed her. Thanks for being the best dad a girl could have! Along with a dad, Shayne gained a new brother and sister. They shared many laughs over the years together.
All who knew her knew she would give you her last dollar and that she lived life her way. Not always with the best results but her way.
She loved the Lord and sharing her faith. She used her faith to get through tough times, never once complaining about her trials. Her strong faith is what most remember about her.
She loved her country and never once failed to thank a veteran for their services when they crossed paths.
A celebration of Shayne's life will be held on June 17th, 2023 at 11:00 am at the Free Church in Lander. Shayne lived her life her way, and we all have many cherished funny, inspiring, and crazy memories of her! Please join us for an opportunity to share those memories as we celebrate Shayne's life together!
She is survived by her husband Joey, daughters Annaliesa, Rebekah and Josie. Mother and father Jeff and Kathy Nauman. Sisters Jenny (Jared) Hamilton, Dani (Roger) Galitz and brothers Ross (Christine) Nauman, LD (Stacy) Lacy, Nicona (Taylor) Lacy, Step-mother Angela Lacy. Grandmothers Charlene Nauman, Edith Nauman, and Mellie Jo Neaville. Grandfather Glen Neaville. In-laws Sanford and Donna Friday. Brother's -in-law Jerrad (Tara) Friday, Jeremy (Annie) Friday, Jeremiah Friday, Joshua (Shannon) Friday, Sanford (Sheresa) Friday, JR. Numerous nieces, nephews, and extended family.
Preceded in death by her father Joseph E. Lacy III, grandfathers Vincent Jeannotte, Joseph E Lacy, II, Merle Nauman, Duane Friday, John Drake. Grandmother Idella Webb Jeannotte, Bernadine Goggles Friday, Goldie Seabourn Drake.