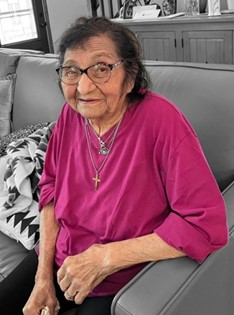 Dorothy Hanway Pinney
Jun 9, 1930 - Jun 19, 2023
Dorothy Hanway Pinney, 93, of Tacoma, Washington and formally of Arapahoe, Wyoming passed away on Monday, June, 19, 2023. A wake will be held at 6:00 pm, Saturday, June 24, 2023, at St. Stephen's Mission. Funeral mass will be 1:00 pm, Sunday, June 25, 2023, at St. Stephen's Catholic Church with burial to follow at the Arapaho Catholic Cemetery. A feed will follow at St. Stephen's Mission.
Dorothy Helen Hanway was born June 9, 1930 in Riverton, WY to Paul Hanway and Cassie (Friday) Hanway. She attended the St. Stephen's Boarding School and graduated at the age of 16. She was raised on the Wind River Reservation and had many places to call home between Wyoming and Washington State throughout her life. She was a proud member of the Northern Arapaho Tribe, at her passing she was the second oldest member.
Dorothy was baptized into the Catholic Faith and was a member of St. Stephen's Catholic Church.
She was a hard worker as a maid, cleaning person, factory worker and a caretaker.
Dorothy's hobby was her family with all the activities they were involved in, she loved having them around her. She loved to travel and play Bingo. She had an iconic laugh that made others feel good. She is remembered as the nicest person.
She is survived by her son, Kelly Pinney; daughters, Peggy Black and Maxine Culbertson; six grandchildren, Jay, Lyndsay, Robin, Brandon, Bubbers, and Josh; and five great grandchildren.
She was preceded in death by her parents, Paul and Cassie Hanway; four sons, Jay Pinney, Clyde "Chick" Pinney, Jimmy Pinney, and Patrick Pinney; all past and present descendants of her parents, Paul Hanway and Cassie Friday-Hanway.
On-line condolences may be made at TheDavisFuneralHome.com
Arrangements are under the direction of Davis Funeral Home, Crematory, and Monuments.