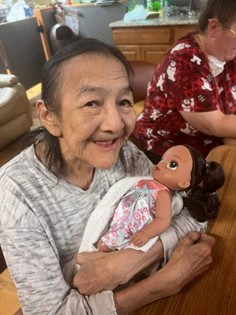 Catherine June Ledbetter "Cedar Tree woman" (Be 3einooo Nesei)
Jun 22, 1950 - Jun 28, 2023
Funeral services for Catherine June Ledbetter, 73, will be held at 10:00 a.m., Friday, July 7, 2023 at the St. Stephen's Catholic Church. Interment will follow at the Arapaho Catholic Cemetery. A Rosary will be held at the Eagle Hall, 7:00 p.m., Thursday, July 6, 2023 with a wake to follow.
Mrs. Ledbetter passed away on Wednesday, June 28, 2023 in Cheyenne, Wyoming.
Junie was born on June 22, 1950, daughter of Phillip and Mary F. (Antelope) Warren in Riverton, Wyoming, where she grew up and attended St. Stephen's School. Her Northern Arapaho name was Cedar Tree Women (Be 3einooo nesei).
She spent some time living in Casper working at the Parkway Plaza as a housekeeper. She was an amazing grandma who loved spending time and cooking with her grandkids. She also enjoyed listening to the oldies.
Junie was baptized into the Catholic faith.
Survivors include her sons, Steven SittingEagle, Jr. and James SittingEagle; daughter, Stephanie and her husband, Jeremiah Anthony Mahony; brother, Phillip Warren, Jr.; sister, Agnes Warren; families of Ridgely, Trumbull, Yellowplume, Duran, Antelope, Wallowingbull and Warren; nieces and nephews, Caroline White, Donna Drake, Brian Dodge, Dawn Headley, Joshua Headley, Patricks.
She was preceded in death by her husband, Charles Ledbetter; daughter, Wanda Jean SittingEagle; grandson, Samuel Gabriel SittingEagle; Lorenzo Eagle; brothers, Herman Joseph Warren, Benjamin George Warren, Francis William Warren; sister, Donna Jean Warren and Mary Lorraine Warren; some nieces and nephews.
On-line condolences may be made at TheDavisFuneralHome.com
Services are under the direction of Davis Funeral Home, Crematory, and Monuments