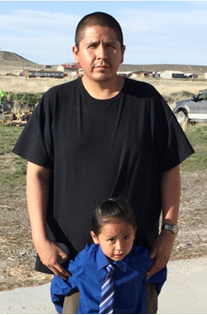 Shawn Myron Headley
Oct 12, 1985 - Jul 17, 2023
Funeral services for Shawn Myron Headley, 37, will be held at 10:00 a.m., Monday, July 24, 2023 at the Headley home, 27 Great Plains Loop. Interment will follow at Yellowcalf Cemetery. A Wake will begin at 5:00 p.m., Sunday, July 23, 2023 also at the Headley home, 27 Great Plains Loop.
Shawn passed away on July 17, 2023 in Arapahoe, Wyoming.
He was born on October 12, 1985, son of John Headley, Sr. and Elizabeth "Jackie" Many Hides in Lander, Wyoming. Shawn was given his Indian Name, Standing Elk. He grew up in Ethete, Wyoming and graduated from Flandreau Indian School, South Dakota. He also spent time living in Browning, Montana.
Shawn previously worked for Wind River Casino and the Arapaho Housing Security as well as an over the road truck driver for Knight Transportation.
He loved to gamble, watch television and hang out with his friends.
Mr. Headley was a member of the Native American Church and was baptized into the Episcopal faith on July 8, 1990 at the Church of Our Father's House Ethete, Wyoming.
Survivors include his father, John Headley, Sr.; son, Acamas Kaden Headley; step-son, Cordell Brown; grandparents, Melvin Many Hides, Amos Many Hides, Lorraine Morgan and Gloria Bear; father-in-law, Andrew "Andy" Brown; brother, John Headley, Jr.; sisters, Ladine (Mike T.) Gould, Faline Headley, Jolene Carol (Roland) Iron, and Carlynn Many Hides; aunts, Carla Medicine Elk and Helena Baker; numerous nieces and nephews.
He was preceded in death by his mother, Elizabeth Headley; longtime girlfriend, Melissa April Brown; brother, Stephen Headley; grandparents, Helen Crispin Cedar Tree, Carl Lewis Headley, Mary Jane Many Hides, Evalina Carlson and John Sandy.
On-line condolences may be made at TheDavisFuneralHome.com
Services are under the direction of Davis Funeral Home, Crematory, and Monuments.