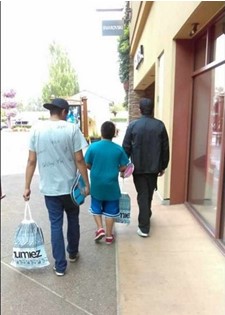 Alexander Eagle, Sr.
Dec 28, 1988 - Jul 30, 2023
Alexander S. Eagle, Sr., 34, passed away on July 30 2023, in Salem, Oregon . A rosary will be recited at 7:00 pm on Monday, August 7, 2023, at St. Stephen's Catholic Church. Wake will follow at Eagle Hall. The funeral service will be 10:00 am on Tuesday, August 8, 2023, at St. Stephen's Catholic Church with burial to follow at Arapaho Catholic Cemetery.
Alexander S. Eagle was born on December 28, 1988 in Riverton, Wyoming to Corrine Addison and Daniel Eagle. He attended Chemawa Indian School in Salem, Oregon, where he graduated.
Alex was a cross country runner, played soccer and basketball. His passion was for skateboarding. He always found a skate park when he was traveling. He loved all kinds of music and loved movie quotes. Alex always had a smile for everyone and was loved by many. Shaudey was the love of his life.
He is survived by his son, Alexander Eagle, Jr. of Great Falls, Montana; parents, Corrine Addison and Danny Eagle; brothers, Austin Eagle and Trestin Addison; sisters, Cecelia Eagle and Larissa Eagle; aunts, Cathy Headley, Patricia Trosper, Delta Azbill, Marla Enos, and Ashley Enos; uncles, Gerald "Percy" Headley, Jr., Ron Howard, Antone Enos, Will Enos, Brian Penatac, and Cameron Enos; grandparents, Julie Deshaw, Glen (Mary) Enos, and Patricia Bergie; god parents, Robert and Alvina Aragon; extended brother and sisters, Patrick (Laura) Eagle, Chris Eagle, Glen Duncan, Mike Eagle, Martin Azbill, Nick and Cameron Azbill, Joe Boggs, Jr., Kyle Trosper, Donnie Calit, Sonia Eagle, Denise (Mike) Ute, Austin Eagle and Alexis Eagle, Chanel, Rafina and Janice Azbill; "other" dad, Norman (Madeline) Bitsie, Sr., Norman Jr., Shailynne, Jadyis, Walter, Zahnnay; extended family, Danny and Wanda C'Bearing and children, Nadine C'Bearing, Danielle C'Bearing, Clara (Freeman) Blackburn; Fleurette (Aaron) Brannon; Rena Brown, Kristen Giego, Virgil Behan, III, Cheryl Blackburn, Clarinda (Nelson) Blackburn, and Jesse Blackburn; numerous cousins and other relatives; and the families of Addison, Headley, Redfield, Enos, Azbill, Day, Weed, Wesaw, and Osborne.
He was preceded in death by grandparents, Jerry Headley, Sr., Janice and Delmer Azbill, John Enos, Norma Enos, Benny Eagle, Kathleen Norse, Margaret Duran, and Virgil Behan, Sr.; great grandparents, Annie and Matt C'Bearing, Catherine Red Field Bear, Arnold Headley, Enos and Barbara Enos, Flossie Brown, and Rosaline Addison; great great grandmother, Dorothy Brown; brother, Jordan Addison; uncles, Tony Eagle, Allen Azbill, Lydell Azbill, Marvin Azbill, Jose Lockwood, and Freeman Blackburn, Jr.; and aunts, Vicky Eagle, Delmona Azbill, and Cory Enos.
On-line condolences may be made at TheDavisFuneralHome.com
Services under the direction of Davis Funeral Home, Crematory, and Monuments.