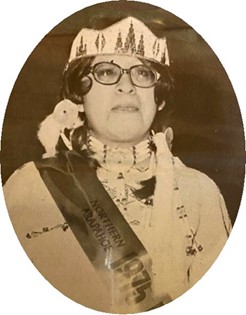 Agnes Hazelwood
Sep 11, 1955 - Aug 19, 2023
Agnes Roxanne (Wallowingbull) Hazelwood, 67, of Arapahoe, Wyoming, passed away Saturday, August 19, 2023 in Salt Lake City, Utah. A Rosary with a wake to follow will be held at #26 Great Plains Loop in Arapahoe at 7:00 PM on Friday, August 25, 2023. The Funeral Mass will be held Saturday, August 26, 2023 at St. Stephens Catholic Church at 10:00 a.m. withburial to follow at Wallowingbull Cemetery.
Agnes was born in Lander, Wyoming September 11, 1955, daughter of Clayton Wallowingbull and Evangeline (Warren) Wallowingbull. Agnes graduated from Crow Creek High School in Stefan, South Dakota and went on to get her degree in Early Childhood Education at the Community College of Denver.
She found herself working with children at Arapahoe School, in Title 9 at the Riverton Middle School and a director at the Great Plains Early Headstart.
Agnes married Patrick Hazelwood and had son, Rolando Hazelwood; daughters, Rosena Hazelwood and Anelia Hazelwood which then lead to grandchildren, Dream, Jason, Marli, Rico, Jervae, Aaniyla, Evangelina, Elliana, and Ezio.
Some of her favorite hobbies and activities were reading, going to the beach, the casino, watching Lifetime shows, spending time with her family, going to Pow Wows, cooking, and traveling.
She is survived by her husband, Patrick; son Rolando (Ally); daughters Rosena and Anelia (Jesse) Hazelwood; immediate grandchildren Dream, Jason, Marli, Rico, Jervae, Aaniyla, Evangelina, Elliana and Ezio; numerous great grandchildren; sisters Cecelia Wallowingbull, Francinda Wallowingbull, Dianne Wallowingbull, Mary Lindevald, Agnes "Moose" Warren, Catherine Trumbull, Carol Trumbull, Janie Brown, Eleanor Brown, Karen Returns to War, Helen Brown, Cheryl Rolliard, Melva Brown, Mervene Brown, Arlene Goodman and Elizabeth Goodman; brothers, Phil Warren, Jr., Darrell Goodman, Bud Goodman, Eugene Ridgley, Benjamin Ridgley and Gail Ridgley; and aunt Joyce Hutchinson.
Agnes was preceded in death by her parents Evangeline and Clayton Wallowingbull; Sisters Joanne Wallowingbull, Donna Gould and Marlene Wallowingbull; brothers, Clayton Wallowingbull Jr., Lloyd R. "Tater" Wallowingbull, Leroy Wallowingbull; grandson, Mateo Tores; granddaughter, Taliyah Wallowingbull; nephew, Joseph Patrick Wallowingbull; nieces, Marcinda Gardner and Tara LaRae Wallowingbull; aunts Irma Groesbeck, Lucy (Wallowingbull) Brown, and Sylvia Dewey; uncles Burton Hutchinson, Sr. and Felix Groesbeck, Sr.; numerous extended loved ones.
On-line condolences may be made at TheDavisFuneralHome.com
Arrangements are under the direction of Davis Funeral Home, Crematory and Monuments.