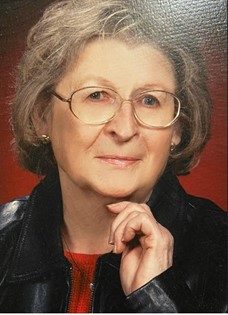 Dolores Mae Zuber
Nov 14, 1930 - Sep 1, 2023
Dolores Mae Zuber, known to friends and family as mom, grandma and great grandma, peacefully passed away on September 1, 2023, with family by her side. She was 92 years old.
A Rosary will be recited at 7:00 pm, Friday, September 8, 2023 at St. Margaret's Catholic Church. The Funeral Mass will be held 2:00 pm, Saturday, September 9, 2023 St. Margaret's Catholic Church. Interment will follow at Mountain View Cemetery where she will be laid to rest next to her husband. A reception will follow the service at the Reach Clubhouse, 622 N. 8th West Street in Riverton.
Dolores was born on November 14, 1930, in Oakes, North Dakota. She was the daughter of William S. and Ilah M. (Corliss) Conat. Dolores was raised in Oakes, and graduated high school there as well. It was also in North Dakota that she met her beloved husband, Joseph A. Zuber. The two were later married in Tacoma, Washington.
Dolores and Joe built a beautiful life together, having five children. She was a loving mother to her children, 11 grandchildren, and 16 great grandchildren.
Dolores was a dedicated homemaker and co-owner of Western Supply in Riverton, Wyoming for 35 years; previously owning The Gambles Store in Oakes, North Dakota. She took great pride in her work and was known for her attention to detail. Dolores had a passion for remodeling and designing her home in the latest styles. She took pleasure in raising and caring for her farm animals which included Belgian and Arabian horses, Longhorn cattle, ducks, geese, peacocks, guineas, chickens and several other animals.
Dolores' greatest joy in life was time spent with her grandchildren and great grandchildren. Her family was very important to her.
Dolores was a member of St. Margaret's Catholic Church, where she found solace and strength in her faith. She cherished her time spent in worship and found comfort in the community of fellow believers.
Dolores is survived by her children, Marla Ross, Joe (Mary) Zuber, Neil (Cindy) Zuber, and Jan (Jim) Taylor and many grandchildren. She was preceded in death by her beloved husband, Joseph Zuber, and her daughter, Lori O'Neil, father William Conat, mother Ilah Conat, and her sisters Betty Brown and Diane Grasmick.
Dolores Mae Zuber will be deeply missed by all who had the privilege of knowing her. Her legacy of love, hard work, and dedication will continue to inspire those whose lives she touched. May she rest in eternal peace.
On-line condolences may be made at TheDavisFuneralHome.com.
Services are under the direction of Davis Funeral Home, Crematory, and Monuments.