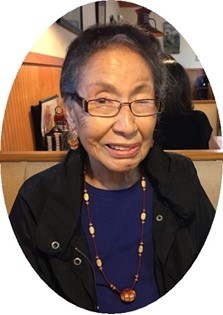 Eleanor Emarthle
Apr 13, 1936 - Dec 19, 2022
Mary Eleanor Bernice Emarthle
Eleanor Bernice Blackburn
A Memorial Mass for Eleanor Bernice (Blackburn) Emarthle, 86, will be held at 11:00 a.m., Saturday, September 9, 2023 at St. Stephen's Catholic Church with Father Andrew Duncan officiating. Interment will follow at the Arapaho Catholic Cemetery. A Rosary will be recited at 7:00 p.m., Friday, September 8, 2023, at St. Stephen's Catholic Church.
Eleanor Bernice Emarthle passed away at her home on December 19, 2022, surrounded by her family.

She was born on April 13, 1936, daughter of Seth and Nellie Blackburn (Whiting) grew up on the Wind River Reservation and graduated from St. Stephen's High School. Upon graduating she attended Marymount College in Salina KS.


Eleanor (Bernice) moved to Oklahoma City, OK where she met and married Tommy Ray Emarthle in Wolf, Oklahoma. They lived in Oklahoma City, OK until their divorce. Eleanor lived in Dallas, TX, Seattle, WA and finally Tulsa, OK.

Bernice enjoyed spending time with her grandkids. She was an avid reader, enjoyed doing puzzles, watching movies, going for walks, loved country music, and powwows.
Bernice worked in the health care profession as a Unit Secretary, a TSA screener in Texas, and was also a personal care assistant in Seattle, WA and later Tulsa, OK
She was a Baptized member of the Catholic Church.
Survivors include children; Daniel T. Emarthle, Carol J Douglas and John Holbrook. Grandchildren; Jessica, Martin Emarthle, Damien, Daryl Jr. Douglas, Chebon Emathla, Kristopher, Kameron and Kellan Holbrook.

She was preceded in death by her daughter Elizabeth Clare Emarthle, husband Tommy Ray Emarthle, parents, Seth and Nellie Whiting, brothers, Howard, Tommy, Charles, Kenneth, Linus Blackburn, sisters, Catherine "Joy" Hurley, Alice Molash, Patricia "Patsy" Snook.
On-line condolences may be made at TheDavisFuneralHome.com
Services under the direction of Davis Funeral Home, Crematory, and Monuments.