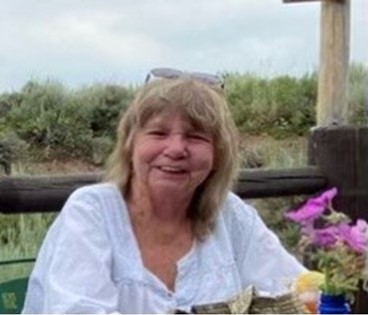 Earleen George
Sep 20, 1949 - Sep 5, 2023
Earleen K. George, 73, only known as George died Tuesday morning, September 5, 2023, at her home in Dubois, Wyoming. According to her wishes cremation has taken place and she will be laid to rest at the Dubois Cemetery, where she was a long-time caretaker.
George was born September 20, 1949, in Kankakee, Illinois to Earl Frank and Myrtle Catherine (Vaughn) George. She grew up west of Kankakee on a dairy farm. She graduated from Herscher Illinois High School with the class of 1967.
She lived in Arizona and many places in Wyoming, settling in Dubois in 1983. George, a master gardener, was the Sexton of the Dubois Cemetery from 1998 to 2020. She took great pride in keeping the cemetery looking its very best and did an incredible job doing so. George drove the bus for School District #2 in Dubois from 2001 to 2015. She enjoyed traveling with the kids and watching all the different sporting events, especially high school wrestling. Throughout her life she held various other jobs which included being a vet tech, waitressing in restaurants, hunting camps, and being a Brakeman for Union Pacific Railroad.
In 1990 George participated in the Wyoming Centennial Wagon Train. On June 2, 1990, nearly 60 covered wagons, 340 people, and many, many horses left Fort Casper in Casper Wyoming. They walked, rode, and lived the full wagon train experience. On July 2, 1990, they arrived in Cody Wyoming, ending the trip.
George enjoyed her furry little animals as well as her horses and mules. George had many hobbies in her younger years including chariot racing, which she thoroughly enjoyed. She also enjoyed hunting and being in the mountains, creating stained glass windows, knitting, and crocheting. Geroge was no stranger to hard work and was as tough as they come. Her character was unmatched if George gave you her word it was as good as gold.
She was a life member of the Ladies Auxiliary VFW 10056 Ramar Brown in Dubois.
George is survived by many friends whom she considered family. She is preceded in death by her parents and many close friends and animals.
A celebration of George's Life will be held on September 30th, at 2 pm at the Dubois Cemetery. Following the interment there will be a celebration at the Outlaw Saloon. Please bring a dish to share.
In perfect George fashion one of her final wishes was to have her head stone accompanied by a parking meter that reads, TIME EXPIRED! George was loved and will be missed by so many.
On-line condolences may be made at TheDavisFuneralHome.com
Services are under the direction of George's close friends at Davis Funeral Home.