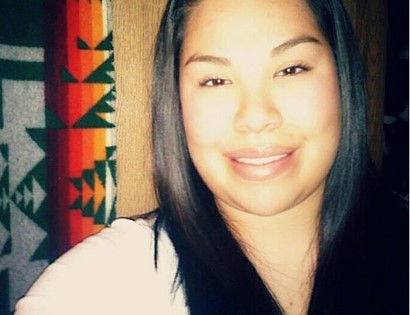 Katelyn Jenee' "Katos" Brown
Apr 13, 1990 - Sep 22, 2023
Katelyn Jenee' "Katos" Brown, 33, of Fort Washakie, Wyoming passed away on Friday, September 22, 2023. A wake will be held starting at 7:00 pm on Monday, September 25, 2023 at 154 Blue Sky Highway. The funeral service will be at 10:00 am on Tuesday, September 26, 2023 at Blue Sky Hall with burial at Friday Cemetery.
Katelyn Jenee' Brown graduated from St. Stephens High School in 2008. She Lived on the Wind River Reservation her whole life. Her Indian name was, Heeneitiseet (Walks On A Clear Path) and was given to her by the late Ben Friday Sr. Katelyn worked at Wind River Dialysis for some time and was known for being one of their hardest workers. She enjoyed being with her children, family, and friends. Katelyn supported her family and siblings during their sporting events and achievements. She was always there when you needed her. She liked to play basketball and volleyball and was all-conference in high school. She scored the most points at the Lakota Invitational basketball tournament. She enjoyed fishing and hunting. She was a strong believer in her Native ways and ceremonies. She was known for her sense of humor, contagious laugh, and her terrorizing. She had a beautiful singing voice, her and her grandma Irene loved "Jackie Bird."
Survivors include her companion Trevor Williamson Sr. Her Daughters Kenslei' Brown, Oaklee Perry, He'Onii Perry. Her sons Trevor Williamson Jr., Tayden Williamson. Her parents Dale Shannon Brown & Kirsten Leean Martel and Ryan and Marilyn Gambler. Her brothers Tevin Brown, Tyree Brown, Shannon Brown, Riley Martel, Teryn Martel, Ryan Martel, Ryan Gambler Jr, (Buster), Kesley Gambler. Her sisters Amryn Brown, Kaylia Martel, Jaysa Bell, Elle'Tahne Brown, Kelli Redcap, Bobbi Redcap, Leann Brown, Lacey Brown, Lexis Brown, Larae Brown, Lela C'Hair, Teanna Trosper, Taylor Trosper, Tiara Crawford. Aunts Fatima Martel (Trevor Trosper), Loretta Martel, Ione Jones(Jess), Amy C'Hair(Ryan), Erin Martel, Glenda Little Bird, Carrie Littlebird, Jolee Rose RedCherries, Cassie Tyler, Rosa Dodge. Her uncles Richard "Buffalo" Martel, Mike Bell, Hawk Bell, Lee Martel, Eric Vigil, Jay Brown, Shawn Brown(Sacheen), Joey Littlebird. Her grandparents Wesley Martel, Shannon Brown, Emma Martel, Robyn Blackburn, Sharon Bell, Radonna Martel, Connie Vigil(Linus), Franklin Martel Jr.(Bernelle), Clarence Brown, Darlene Bell, Eleanor Brown, Reva Doctor, Linda Hurtado, Hubert Friday, Carol Trumball, Catherine Trumball, Kathy (Sam Dresser), Carol Ferris, Karen Snyder. The families of Brown, Martel, Thunder, Friday, Trumbull, Lonebear, Wanstall, LaJuenesse.
She was preceded in death by her son Kayden Posey, her daughter Aylee Snow Perry. Her grandparents Irene Friday, Franklin and Loretta Martel, Wayne and Vicki Friday, Chester and Roseen Friday, Estelle and Albert Dodge, Elaine and Frank Hill, Corrine and Victor Revere, Marilyn Brown, Mervin Brown, Wayland Brown, Bradford Brown, Alvin Brown Sr., Geraldine Trumbull, Brothers Brian Willow, Brodie Potter, Uncle Reid Bell, Aunt Shawna Bell. Brother, Donovan Blackburn.