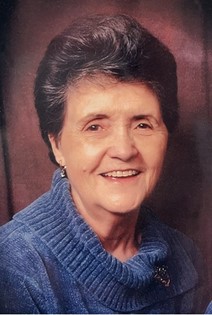 Ann E. Goetz
Aug 29, 1935 - Oct 4, 2023
Ann Evangeline Goetz, 88, of Billings, MT, passed away Wednesday October 4, 2023. Graveside services will be held at Mount Hope Cemetery, Lander Wyoming on October 11, 2023 at 1:00 PM.
Ann "Micki Ann" was born August 29, 1935 in Lander, WY to Sydney and Alice Freese. She grew up in Lander and after graduation from Lander High School Ann went on to Hunt Business School in Denver, CO.
Ann later met and married William Wayne Goetz and they had two daughters and one son.
She worked as an executive secretary for several law firms and businesses as well as the secretary for her church groups. Ann was involved in Women's Bible Study, a Sunday School Teacher, and a Vacation Bible School Teacher.
Ann was very creative in her cross stitch, quilting, fine sewing and her gardening.
She lived in numerous places such as Lander, Riverton, Billings, California and Alaska.
Ann is survived by her daughters, Sandra Brock of Windsor, CA and LeAnn Blumenshine of Hollis, NH. Four grandchildren; brother, Alan Freese of Riverton, WY and sister, Florence Luers of Riverton, WY.
She is preceded in death by her husband, Willam Goetz and son, Steven Goetz.
On-line condolences may be made at TheDavisFuneralHome.com
Services under the direction of Davis Funeral Home, Crematory and Monument